Purse Distributed in Oaklawn Non-Contest
Date Posted: 3/14/2008 2:32:32 PM
Last Updated: 3/16/2008 6:10:11 PM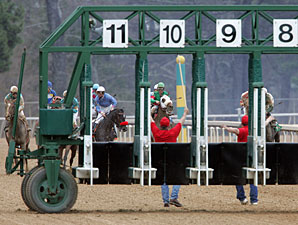 The $35,000 purse designated for the ninth race at Oaklawn Park March 13, will be paid out evenly to all 11 runners in the race, even though the race was officially declared a no-contest.
Photo: Coady Photography
Edited Press Release
In an unprecedented series of events, the $35,000 purse designated for the ninth race at Oaklawn Park March 13, will be paid out evenly to all 11 runners in the race, even though the race was officially declared a no-contest.
Track stewards declared a "no race" when the tractor pulling the starting gate malfunctioned and could not remove the gate. Oaklawn officials recommended to HBPA President, Dr. Earl Bellamy, that the purse be paid out evenly and he was in total agreement.
When consulted about the legality of the recommended purse redistribution, the track stewards supported the Oaklawn and HBPA request.
As a result, the Oaklawn horsemen's bookkeeper has been instructed to divide the purse 11 ways rather than the normal five ways.
"It's a great idea. Everybody who participated deserves something for what they went through,"said trainer Don Von Hemel, conditioner of Pure Baby for owner Norma Lee Stockseth. "Oaklawn Park is showing good faith by doing this."
"Good deal, very good," added Champion Racing Stable trainer, Allen Milligan, who saddled Mia Prospect for the race. "I like that. It's nice for management to give us something back. This is the first time I've heard of a racetrack doing this."
Terry Gestes, who saddled William Stiritz' Atlantis City, added "It's fantastic that we're getting the money back. It's very generous of management."
"We would like to commend the jockeys for their heads-up riding, especially Calvin Borel, who was on the lead as the field turned for home." said assistant general manager of racing David Longinotti said. "Not only was Calvin successful in pulling up his horse, but he did an exceptional job of alerting the other riders in the race. His actions, and the actions of all of the jockeys, was truly professional. No rider or horse was injured. That's what is most important."
Copyright © 2015 The Blood-Horse, Inc. All Rights Reserved.