Silks Organizer Olah Dies March 8
Date Posted: 3/9/2008 3:57:00 PM
Last Updated: 3/12/2008 8:09:34 AM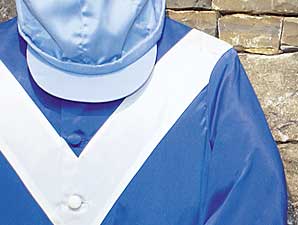 Photo: Anne M. Eberhardt

(Edited news release)
Louis Olah, the longtime "colors man" in the jockeys' rooms at Aqueduct, Belmont Park and Saratoga, died the evening of March 8 following a brief illness. He was 79.

In his 41 years of service to the New York Racing Association, Olah was in charge of organizing thousands of sets of silks.

Olah won his first race as a jockey in 1946, a profession he retired from in 1966.

"I've always been a horse racing fan," Olah told the New York Times in a Jan. 13 interview. "I just thought this would be the perfect job for me, to stay in the game."

Despite health issues, Olah remained on the job for as long as he could. He was hospitalized a couple of weeks before his death. "Why retire?" Olah told the Times. "If I stay home, I'll probably go crazy."

Olah is survived by Clare, his wife of 58 years, and daughter Donna.

Viewings will be held at Romanelli Funeral Home, 89-01 Rockaway Boulevard, Ozone Park, N.Y. (telephone 718-845-5151) on March 11 from 7 p.m. to 9 p.m., and March 12 from 2 p.m. to 5 p.m., and 7 p.m. to 9 p.m. A memorial service will be held March 12 at 8 p.m. at the funeral home.




Copyright © 2015 The Blood-Horse, Inc. All Rights Reserved.