Jerry Moss Reappointed to CHRB
by Blood-Horse Staff
Date Posted: 2/8/2008 4:18:39 PM
Last Updated: 2/8/2008 9:06:43 PM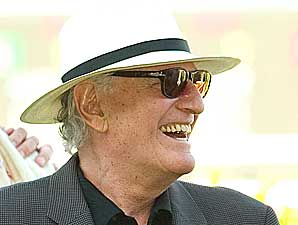 Jerry Moss
Photo: Benoit

Jerry Moss, a prominent breeder and owner, has been reappointed to the California Horse Racing Board, it was announced by Gov. Arnold Schwarzenegger's office Feb. 7.

Moss, 72, a Democrat from Los Angeles, has been a commissioner on the board since 2004. The former record industry executive began racing horses in 1970 and has had a breeding and ownership partnership with his wife, Ann, for many years.

Among the more than 40 stakes winners they have raced are Fighting Fit, Ruhlmann, Sardula, Kudos, Lexicon, Tarlow, Giacomo, Tiago, Spellbinder, and Zenyatta.

Moss co-founded the A&M record label in 1962 and served as a managing partner of the label until its sale in 1989. From 1989 to 1993, Moss continued to serve in managing capacities for the label. He is a member of the board of visitors at the University of California, Los Angeles, School of Arts and Architecture.

The position requires California Senate confirmation and the compensation is $100 per diem.



Copyright © 2015 The Blood-Horse, Inc. All Rights Reserved.