Valenzuela to Ride at Fair Grounds
by Claire Novak
Date Posted: 2/5/2008 8:13:52 PM
Last Updated: 2/6/2008 6:00:47 PM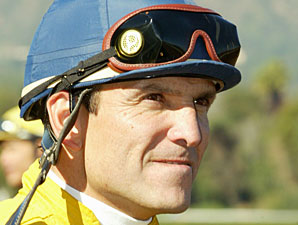 Patrick Valenzuela
Photo: Benoit

With his conditional license revoked in California and unable to apply for permission to ride there until Dec. 31 of this year, Patrick Valenzuela is shifting his tack to Louisiana. The 45-year-old rider is scheduled to fly into New Orleans Feb. 9 and will begin getting on horses "to get fit" before riding races at Fair Grounds starting Feb. 14, according to his new agent, Danny Gargan.

Valenzuela, who has not raced yet this year, was originally named on two mounts Feb. 8 but will not be able to leave California until the following day, Gargan said.

"He'll fly in Saturday, start getting on horses all week, and hopefully start riding Thursday of next week," Gargan said. "He only wants to ride two or three races a day until he feels 100%."

Gargan said Valenzuela received a license to ride in the Dec. 7 Boyd Gaming's Delta Jackpot Stakes (gr. III) at Delta Downs in 2007 after California revoked his license Nov. 14 of that year. According to Gargan, the license issued for the Delta Jackpot carries over to any track in Louisiana.

"Everybody at Fair Grounds has been great, more than welcoming," Gargan said. "Patrick had his problems in the past, he made mistakes, but it's hard to say no to such a talented rider. Lots of agents would be scared because there's a lot of pressure in having him, but there are plenty of trainers here who are ready to support him."

Throughout a 30-year riding career, Valenzuela has ridden 3,969 winners – including seven Breeders' Cup winners. However, his career has been interrupted several times by suspensions and license revocations due to substance abuse and other personal problems. According to the National Thoroughbred Racing Association, he has spent a total of 82 months – nearly seven years – on the sidelines due to suspensions or license revocations.

Just five years ago, Valenzuela swept all five riding titles at the three major Southern California tracks, earning a career-best $15,697,353 to finish fifth in the national standings for purses earned. But his career has been floundering since 2006, when he was off several months with a back injury. After coming back from that incident, Valenzuela was kicked by a horse in the walking ring at Hollywood Park and sustained broken ribs. He also underwent knee surgery for a lingering injury and spent nearly a year on the sidelines.

Coming back in November of 2007, Valenzuela returned to the saddle at Zia Park in New Mexico until his California license was reinstated – only to have it revoked Dec. 28 for violation of conditions.

"It's a big opportunity just to work for that caliber of rider," Gargan said. "He does have a past but the things that happened to him in California happened off the track; he didn't get in trouble on the track for anything. It was just unfortunate that he violated the terms of his conditional agreement."



Copyright © 2015 The Blood-Horse, Inc. All Rights Reserved.