Sunshine Millions On at Santa Anita
by Tracy Gantz
Date Posted: 1/26/2008 1:41:17 PM
Last Updated: 1/27/2008 1:19:16 PM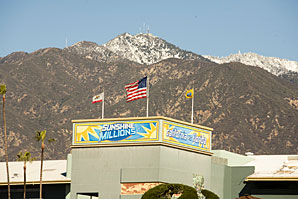 With sunny skies overhead, Santa Anita is going to proceed with its half of the Jan. 26 Sunshine Millions.
Photo: Benoit

With sunny skies overhead and another rainstorm not expected until the evening, Santa Anita is going to proceed with its half of the Jan. 26 Sunshine Millions.

Heavy rain on the Cushion Track racing surface, which continues to have drainage problems, forced the cancellation of the Jan. 24-25 cards. However, after several horses galloped over the main track the morning of Jan. 26, the decision was made to run.

Rain had ended the evening before, allowing the maintenance crew to work the track all night.

"We bladed off the top 2 inches," said Santa Anita president Ron Charles, "and brought in some more of the original Cushion Track material."

Jockeys and trainers walked the track before a contingent of gallopers came out at 9:30 a.m. Jockey David Flores worked a horse for trainer Mark Glatt and reported the surface in good condition.

"Horses are traveling fine on it," Flores told Glatt, several horsemen, and Santa Anita officials. The track isn't sloppy, but Flores said that the surface still has moisture in it. "That actually makes it more forgiving," he said.

Jockeys' Guild representative Darrell Haire said that the jockeys told him the surface feels consistent, a major consideration in their decision to ride.

By post time, the grass course was listed as good and turf races are to remain on the lawn. That includes the $500,000 Sunshine Millions Filly and Mare Turf. Fifteen horses were listed as scratched on the card.

Half of the Sunshine Millions races are being run at Santa Anita, while the other half are slated for Gulfstream Park in Florida. The $1 million Sunshine Millions Classic is at Santa Anita this year.

The weather forecast the night of Jan. 26 calls for another storm in addition to ones that have already dumped an estimated five inches of rain in Southern California.

"The forecast is horrible," Charles said. "The forecast is for four inches of rain starting about seven, eight o'clock tonight. Obviously, if that happens, we'd cancel racing tomorrow, and it probably jeopardizes the chance of starting to put in the polymer and the fibers (to assist in proper drainage)."

Asked if the status of racing was day to day, Charles said, "It absolutely is."

Santa Anita already had announced the track would close Jan. 28 and Jan. 31 for the track project.. Santa Anita's regular dark days are Tuesday and Wednesday, which would provide four consecutive days to try and alleviate the drainage problem.

Meanwhile, horsemen were managing as best they could.

"This weather sets us back," said John Sadler, who was tied for the training lead with Doug O'Neill through 18 racing days with 10 wins. "But we're fortunate in that our barn is set up at both Santa Anita and Hollywood Park, and if we have to send our horses across town to train, we'll send them across town."



Copyright © 2015 The Blood-Horse, Inc. All Rights Reserved.