Jan. Sale: Strength in Right Places
by Ron Mitchell
Date Posted: 1/14/2008 3:11:47 PM
Last Updated: 1/16/2008 9:09:04 AM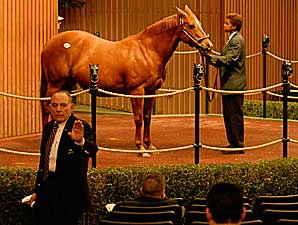 Keeneland concluded its January Horses of All Ages sale Jan. 13 with double-digit increases in median and average prices.
Photo: Anne M. Eberhardt

As Keeneland Association concluded its January Horses of All Ages sale Jan. 13 with double-digit increases in median (12.7%) and average (20.6%) prices, sales company officials continued to sound warning signals about the overall health of the breeding industry.

Specifically, they say there are too many horses being produced each year which in turn is leading to too many horses being placed on the market. Plus, 2007 successes enjoyed by Keeneland were primarily a result of the weakened U.S. dollar against foreign currency. Thus, the market was boosted by increased spending from international buyers, a circumstance upon which breeders can formulate a business plan for the future.

Despite the growth in the January sale from two days in 2002 to seven this year, the marketplace has been able to absorb the increases as prices continue to rise.

Reinforcing the increases in median and average, a breakdown of the January sale by price category shows that the number of horses sold in the middle-to-upper price ranges rose as sales for cheaper horses declined.

Topped by Irish Cherry's final bid of $2.7 million, the four seven-figure horses sold this year was a gain of 100% over the two sold in 2007, according to statistics compiled by BHNow. There were no horses in either year that brought final prices between $800,000-$999,999 and only one each year in the $700,000-$799,999 price range. In the broader $500,000-$699,999 price range, there were six such transactions in 2008, compared with seven in 2007.

Aside from the gains at the very top, the real strength in the market came within the $200,000 to $500,000 price categories.

There was a 25% increase, from four last year to five this year, in the number of horses bringing prices of $400,000-$499,999. The four additional (from 14 to 18) horses selling between $300,000 and $399,999 represented a 28.6% increase. This was followed by a whopping 52.2% increase (from 23 to 35) -- the largest in any non-seven-figure market sector -- at the $200,000-$299,999 price level.

Moving on down the pricing ladder, we find declines in all price ranges from $199,999 down to the bottom, with one nominal exception in the second category down.

The respective price ranges and their changes:

--$150,000-$199,999: 56 in 2007, 26 in 2008
--$100,000-$149,999: 76 in 2007, 78 in 2008
--$50,000-$99,999: 308 in 2007, 259 in 2008
--$30,000-$49,999: 211 in 2007, 193 in 2008
--$10,000-$29,999: 500 in 2007, 382 in 2008
--$0-$9,999: 740 in 2007, 566 in 2008

The bottom line is that, while Keeneland is sounding the clarion call on the possible future market correction, the present situation is far from dire. After all, prices paid at the January sale trended in the direction that any sales company would love – strong at the top and weak at the bottom.



Copyright © 2015 The Blood-Horse, Inc. All Rights Reserved.