CA Jocks Make Safety Visors
by Claire Novak
Date Posted: 1/12/2008 8:13:40 PM
Last Updated: 1/15/2008 10:45:20 AM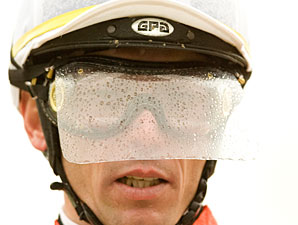 Garrett Gomez wears a plastic safety visor to help protect his face from kickback at Santa Anita.
Photo: Benoit
Jockeys in California are wearing plastic safety visors to protect their faces from harsh kickback as racing at Santa Anita continues despite the track's surface problems.

The shields, which fit over the riders' goggles and look similar to the visor portion of a motorcycle helmet, have been adopted by several members of the Southern California colony and are being manufactured as quickly as possible, said Jockeys' Guild representative Darrell Haire.

"We're going the extra yard for management, trying to work with them and ride because we know they're in a tight spot," said Haire. "At the same time, we need to protect these jockeys."

Garrett Gomez, the leading candidate for the 2007 Eclipse Award for Outstanding Jockey, said he began wearing a shield because harsh kickback from the surface increased after coarse sand was mixed into the Cushion Track in December. The sand was mixed in as management attempted to remedy the track's drainage problems.

"They've got a lot of coarse sand and rocks in the track, and we need something to protect our faces," said Gomez. "The sand stings."
Some horses are reluctant to run into the stinging kickback as well, he said.

Riders like Hall of Fame member Mike Smith and George Woolfe Award winner Jon Court are using the shields, and others are adopting the practice as additional shields become available. The plastic with which to make the shields is difficult to obtain, said a valet working at Santa Anita.

Jockeys at various tracks have been known to use similar measures when clods of dirt were kicking back, but this is the first time on record that such measures have had to be employed at Santa Anita.

"This is the first time I've really seen this kind of shield," said Haire. "It's kind of a quick-fix situation."
Copyright © 2015 The Blood-Horse, Inc. All Rights Reserved.