Horse Park Receives Eclipse Award
Date Posted: 1/10/2008 2:33:00 PM
Last Updated: 1/11/2008 1:49:25 PM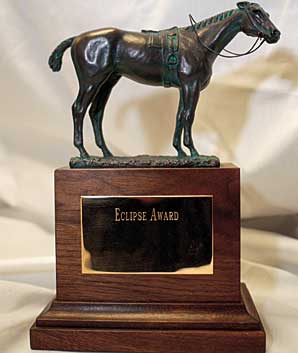 Photo: Anne M. Eberhardt
From the National Thoroughbred Racing Association
The Kentucky Horse Park, longtime home of the late John Henry, has been honored with the 2007 Special Eclipse Award, presented by the National Turf Writers Association, Daily Racing Form, and the NTRA. The award honors outstanding individual achievements in, or contributions to, the sport of Thoroughbred racing.
"We are exhilarated to be honored with the Special Eclipse Award," said John Nicholson, executive director of the Kentucky Horse Park, which is based in Lexington. "This is the culmination of enormous efforts by many people over the past three decades who played a central role in the celebration of that special bond between man and the horse."
Nicholson will be presented with the Special Award, on behalf of the Kentucky Horse Park, at the 37th Eclipse Awards ceremony Jan. 21 at the Beverly Wilshire Four Seasons Hotel in Beverly Hills, Calif.
Founded in 1978 as the first national horse park, the Kentucky Horse Park has expanded over the years to feature as many as 53 different breeds of horses. The park showcases the horse in daily equine presentations, horse drawn tours, horseback riding, pony rides, and cultural exhibits.
The park hosts nearly 900,000 visitors and 15,000 competition horses in 75 special events and horse shows each year. It is also the home of the National Horse Center, a collection of 34 national, state, and regional equine organizations.
Among its equine competitions, the park is the annual host to the Rolex Kentucky three-day event, which nearly 97,000 fans attended in 2007. In 2010, the park will play host to the Alltech FEI World Equestrian Games, the first time this global event has ever been held outside of Europe.
The park is perhaps best known for its Hall of Champions, which is home for retired champions of the race track and show ring, most notably, two-time time Horse of the Year, John Henry, who lived there until his passing last October.
"For 23 years, we were able to care for John Henry, while he was visited by millions of fans and allowed us to tell our story," Nicholson said. "John Henry epitomized our philosophy that horses are our heroes and our partners."
"John Henry's indomitable will and spirit symbolized the love and dedication that the Kentucky Horse Park has given to the Thoroughbred industry over the years," said Alex Waldrop, president and chief executive officer of the NTRA. "On behalf of the presenting organizations of the Eclipse Awards, we are proud to bestow this most deserving honor to the men and women of the Kentucky Horse Park."

Copyright © 2015 The Blood-Horse, Inc. All Rights Reserved.