Florida-bred Champions Announced
Date Posted: 1/8/2008 10:25:30 AM
Last Updated: 1/9/2008 3:55:05 PM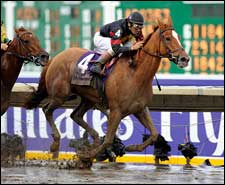 Ginger Punch, winner of the 2007 Breeders' Cup Distaff (gr. I), heads the list of Florida divisional champions.
Photo: Jeffrey Snyder
From the Florida Thoroughbred Breeders' and Owners' Association
The 2007 Florida-bred champions have been determined by the Florida Thoroughbred Breeders' and Owners' Association "Chase to the Championship."
Collectively, the group accounted for 16 stakes wins, 12 which were graded, including seven grade I victories at racetracks across the country.
This year's Florida divisional champions are as follows:
Wicked Style, 2-year-old male
Owner: Ashbrook Farm
Trainer: George Arnold
Breeder: Adena Springs
Set Play, 2-year-old female
Owner: Gerson Racing & Charleville
Trainer: Peter Miller
Breeder: Carolin Von Rosenberg
Going Ballistic, 3-year-old male
Owner: Kindred Thoroughbreds
Trainer: Donnie Von Hemmel
Breeder: Adena Springs
Dearest Trickski, 3-year-old filly
Owner: Tom Mankiewicz
Trainer: John Sadler
Breeder: Dr. K.K. and V. Devi Jayaraman
Benny the Bull, older male and sprinter
Owner: IEAH Stables, et al
Trainer: Richard Dutrow
Breeder: Tomoka Farms Inc.
Ginger Punch, older female
Owner: Stronach Stables
Trainer: Bobby Frankel
Breeder: Adena Springs
Soldier's Dancer, turf horse
Owner: Herman Heinlein
Trainer: David Vivien
Breeder: Franks Farm
The Florida-bred champions are determined by points accumulated during the year-long FTBOA Chase to the Championship. In the case of ties by points, the tie-breaker is most money earned. The Horse of the Year and leading breeder, as well as other awards, are determined by the FTBOA board of directors and year-end statistics.
The Florida-bred champions, as well as their breeders, owners, and trainers, and all other award winners will be honored at the annual FTBOA awards dinner Feb. 10 at the Ocala Hilton in Ocala.


Copyright © 2015 The Blood-Horse, Inc. All Rights Reserved.