Steve Haskin's Preakness Wrapup: A Blast From Baffert
Updated: Thursday, May 24, 2001 11:18 AM
Posted: Tuesday, May 22, 2001 2:53 PM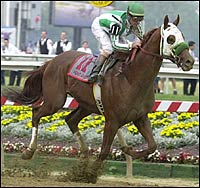 Photo: Mike Corrado
Point Given's ears are pricked as he wins the Preakness Stakes.
Published in the May 26 Blood-Horse
Two days before the May 5 Kentucky Derby (gr. I), Bob Baffert marched into Barn 45 at Churchill Downs, his family in tow, and sought out Sheikh Mohammed al Maktoum, owner of Express Tour. "Hey man, you're breathing
my
air when you come here," he said. The good-natured quip was in response to a similar comment the sheikh had made to Baffert in Dubai this past March. This indeed was Baffert's air, which swirled around his two chestnut powerhouses, Point Given and Congaree. Ironically, Sheikh Mohammed had just finished talking to the media about the tragic and untimely death of his pride and joy, Dubai Millennium. With tears welling in his eyes, he used an old Arab proverb to describe his feelings for the colt: "The air of heaven blew between his ears." When it comes to the Triple Crown in America, many believe the air of heaven blows between Bob Baffert's ears. Since 1996, Baffert had won two Kentucky Derbys and two Preaknesses, and was narrowly beaten in two Belmont Stakes and another Kentucky Derby. Although Baffert's heavenly air went still on a hot May afternoon in Louisville, when Congaree and Point Given managed to come away with only third- and fifth-place finishes, respectively, it blew into Baltimore May 19 like a nor'easter off Chesapeake Bay. Before a record crowd of 104,454, Point Given meandered his way down the Pimlico stretch to win the 126th Preakness Stakes (gr. I) by 2 1/4 lengths, with Congaree just getting nailed for second in the final jumps by A P Valentine. This latest Baffert blast was so powerful it was felt halfway around the world in Riyadh, Saudi Arabia, where another true lover of the Thoroughbred, Prince Ahmed Salman, owner of Point Given, could barely contain his emotions. Salman, whose lifelong ambition is to win the Kentucky Derby, was crushed by Point Given's defeat in Louisville and the way the race unfolded. Baffert and jockey Gary Stevens felt in some way they had let the prince down. Their only regret following the Preakness was he was not there to share in one of his greatest moments. But the winds Point Given had stirred in Baltimore had also blown through the deserts of Saudi Arabia with the force of a sirocco. Salman was overcome with joy following the race, and he tried to convey his feelings on the phone to manager Dick Mulhall, who relayed his words as he spoke. "He said he's the happiest man on the planet Earth today," Mulhall said. "He has tears in his eyes...and he loves America." Mulhall, with a wide grin on his face, told the prince, "Congratulations. He ran a helluva race, didn't he? Or should I have said a heckuva race? Either way, he ran great, and you deserve it. I'm sorry we missed the Derby, but we'll get the next one, too." Mulhall, of course, was referring to the Belmont Stakes (gr. I) on June 9. Salman, who has built The Thoroughbred Corp. into one of racing's most powerful international operations, felt Point Given was too close to a suicidal pace in the Derby. He was adamant the colt be taken back near the rear of the pack in the Preakness, as in last year's Breeders' Cup Juvenile (gr. I). Baffert, Stevens, and Mulhall fully supported the prince's edict, and they sat back over the next two weeks and waited for the heavenly breezes to begin building up force once again, as they had in the San Felipe Stakes (gr. II) and Santa Anita Derby (gr. I). After the Preakness, Salman, feeling gratified about the victory and his tactics, told Mulhall, "I'm going to change my title from the prince to the general." While Salman was in Saudi Arabia tending to his many businesses, Baffert had to deal with restoring Point Given's reputation that at one time had reporters and fellow trainers predicting a Triple Crown sweep. The 17-hand son of Thunder Gulch was such an imposing presence he inspired quotes such as the one from trainer Jim Cassidy, trainer of Jamaican Rum, who commented on his first encounter with Point Given in the San Felipe: "When I looked at him, I thought the race was for 3-year-olds and up, and he was the up." Dave Hofmans, trainer of Millennium Wind, said of his horse, "I've never seen him afraid of anything...except Point Given. God forbid he runs into you." Not only did Baffert have to contend with the training of Point Given and Congaree, he also had to answer for Point Given's well-publicized Lipizzaner stallion impersonations, in which he'd rear several times in succession without warning, nearly flipping over or getting loose. And then there were the rumors and written reports of the colt being "dead lame." By the time he arrived in Baltimore from Louisville three days before the Preakness, his "unofficial" medical reports had him with every pastern injury known to veterinary science. One expected to see him hobble off the van, with his legs wrapped in bandages. One trainer said he wouldn't make it to the half-mile pole. But what came off the van was the same tall, stately chestnut, packing his Derby weight, his coat glistening in the sun. And not a hobble to his walk. Right behind was Congaree, bouncing along like a frisky 2-year-old. Also on the flight from Louisville was Dollar Bill, who should have been equipped with a rabbit's foot and a lucky horseshoe after all the hard luck he'd encountered in his three previous races. Awaiting them in the refurbished Pimlico stakes barn was the mighty Monarchos, brilliant winner of the Derby, and last year's Champagne (gr. I) winner A P Valentine, who had taken some strange side trips in his journey to the Triple Crown this year, the result of bucked shins suffered in the Breeders' Cup. Trainer Nick Zito brought A P Valentine to Baltimore on a road that, as he put it, "wasn't pretty." But Zito believed it was now time for God and racing luck to make things right again after A P Valentine passed seven horses in the final eighth of the Derby, despite being stopped cold twice in the race. "The Derby was so frustrating; the next day I cried, honestly," Zito said. "What a business having to defend yourself and your horse all the time, knowing neither of you are guilty." A super work on the Monday before the Preakness by the son of A.P. Indy raised Zito's spirits. The stage was set. All the players were now ready for their battle in Baltimore. But there were more questions than opinions. Could Monarchos duplicate his explosive victory in the Derby, in which he became the only horse other than Secretariat to break the two-minute mark for the mile and a quarter? Could the lightly raced Congaree maintain his form after pressing the fastest pace in Derby history, then opening up a clear lead in the stretch? Could Point Given, who had been sent to Rood and Riddle veterinary clinic for a post-Derby check-up, rebound off his disappointing performance? Was he victimized by being too close to the pace? Was post 11 going to hurt him? Was he trained too fast for the Derby? Was he not trained enough? Was he sound? Was he even as good as people made him out to be? In his own camp, there were none of those questions. He still was Point Given: Superhorse.
Continued. . . .
FREE! E-Newsletters from The Blood-Horse!...
Follow the top stories of major racing events, racing previews and results with FREE e-newsletters from bloodhorse.com. As news develops, we'll deliver updates to your inbox. Follow important events moment by moment, step by step!