Mooney Wins Media Eclipse Award
by Blood-Horse Staff
Date Posted: 12/27/2007 4:42:27 PM
Last Updated: 12/30/2007 1:36:45 PM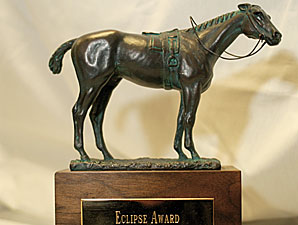 Photo: Anne M. Eberhardt

The National Thoroughbred Racing Association (NTRA) today announced that Bill Mooney, longtime Thoroughbred racing writer and historian, has won the 2007 Media Eclipse Award for Writing in the News/Commentary category for his column "Final Days for a Hall of Famer," on the passing of the great racehorse Precisionist, which appeared in the January 2007 edition of Post Time USA.

This is the second Media Eclipse Award for Mooney, 60, of Lexington, Ky. He previously won the 1985 Media Eclipse Award for Magazine writing for an article about Ellis Park which appeared in The Thoroughbred Record.

"I am stunned to win a second Eclipse Award," said Mooney. "These media awards are so hard to win because the competition is so great and the quality of turf writing and the talent of the reporters who cover the sport and this industry have never been better."

On September 26, Mooney received a call from Michael Blowen, founder and president of Old Friends, a Thoroughbred retirement facility devoted to retired racehorses and stallions, located in Scott County, Ky. Blowen told Mooney that the 26 year-old Precisionist, suffering from a form of skin cancer, would have to be euthanized the following day.

Mooney came to Old Friends that evening and returned early the next morning and provided in his column an emotional narrative of Precisionist's final hours, from the injections of lethal solutions, to Blowen holding Precisionist in his arms before the horse's last breath, to the placement of a halter from the 1985 Breeders' Cup Sprint with Precisionist during his burial.

In his piece, Mooney commented that the decision to euthanize Precisionist was the correct course of action, rather than prolonging his suffering.

"Precisionist's death had been dignified and painless," recalled Mooney. "It had also been necessary. A series of cancerous tumors had invaded his soft palate and nasal passages. They had effectively merged into a single huge tumor that was inoperable.

"It was the most dignified death of a racehorse that I had ever witnessed."

Mooney said that after he receives his Eclipse Award next month, he will deliver it to Blowen and the Old Friends facility.

Honorable mention in the Writing – News/Commentary category went to Bob Ford for "Shed Row to the Winner's Circle" about jockey Calvin Borel winning the Kentucky Derby aboard Street Sense, which appeared in the Philadelphia Inquirer on May 7, 2007.

The panel of judges for the Writing – News/Commentary category was comprised of Reid Cherner, USA Today; Jim Peden, former vice-president of communications for The Jockey Club, and Steve Wulf of ESPN The Magazine.

The Eclipse Awards are presented by the NTRA, National Turf Writers Association (NTWA), and the Daily Racing Form. Eclipse Awards are bestowed upon horses and individuals whose outstanding achievements have earned them the title of champion in their respective categories. Awards also are given to recognize members of the media for outstanding coverage of Thoroughbred racing.

The 37th Annual Eclipse Awards will be held on Monday, January 21, 2008, at the Beverly Wilshire Four Seasons Hotel in Beverly Hills, Calif. For hotel accommodations and Eclipse Awards dinner reservations, contact Debbie Blair at the NTRA's Lexington office, (800) 792-6872, or e-mail dblair@ntra.com.

The Eclipse Awards are named after the great 18th-century racehorse and foundation sire Eclipse, who began racing at age five and was undefeated in 18 starts, including eight walkovers. Eclipse sired the winners of 344 races, including three winners of the Epsom Derby.

The NTRA is a broad-based coalition of horse racing interests consisting of leading Thoroughbred racetracks, owners, breeders, trainers, and affiliated horse racing associations, charged with increasing the popularity of horse racing and improving economic conditions for industry participants. The NTRA has offices in Lexington, Ky., and New York City. NTRA press releases appear on the NTRA web site, NTRA.com.



Copyright © 2015 The Blood-Horse, Inc. All Rights Reserved.