Welcome Relief
Updated: Tuesday, May 22, 2001 8:54 AM
Posted: Tuesday, May 22, 2001 8:54 AM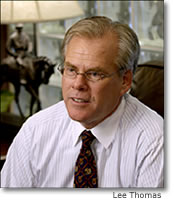 Photo:
Ray Paulick
Editor in Chief
An informal survey of Central Kentucky farms on May 21 suggests the worst may be over as far as mare reproductive loss syndrome is concerned. While heavy losses already have been incurred, particularly involving maiden and barren mares bred in February, the good news is that mares bred from late March on appear to be holding their pregnancies at close to normal percentages. One large breeding operation provided statistics that showed the following: Feb. 10-28--87% of mares bred during this period lost their pregnancies; ultrasound examination indicates the remaining pregnancies "are not very promising." March 1-14--50% of mares bred during this period lost pregnancies; others "look pretty good." March 15-March 31--21% of mares bred during this period lost pregnancies. April 1-14--13% of mares bred during this period lost pregnancies; farm's normal loss range is between 5-10%. April 15-30--3% lost pregnancies. Another major farm experienced losses with 61% of its pregnancies from February covers, 38% from March covers, and no losses from April covers. Yet another operation reported losing its first 21 pregnancies from February covers, then saw a steady decline in losses during March; from April 1 onward, only one of the mares reported pregnant has come up empty. Another farm hit hard by February cover losses reported its numbers improved significantly in early March and were quickly back in the "normal" range.
NTRA IN THE MORNING
The National Thoroughbred Racing Association has gotten incredible mileage out of a charitable gift to nationally syndicated radio host Don Imus. The "Imus in the Morning" show has 10 million listeners on 77 stations throughout the country and can also be seen on MSNBC television. The NTRA decided to donate through NTRA Charities $30,000--$10,000 for each Triple Crown race--to the Imus Ranch, a working cattle ranch in New Mexico that takes in kids with cancer and lets them work with horses and other livestock. NTRA also planned to buy $30,000 of ad time on the Imus show. Imus took the donation a step further and decided to bet $10,000 on the Preakness Stakes (gr. I), with the provision that if the money going to the charity was lost at the races, he would replace it. Naturally, any money won at the races would go to the charity, too. New York radio sports commentator and frequent Imus guest Mike Francesa added $5,000 to the kitty and the two talked up the Preakness big time on the show. On the day before the race, Francesa came up with 30 different Preakness bets for the $15,000, including $5,000 to win on Point Given, and showed a net profit of $8,146. The money was wagered at Pimlico and Belmont Park. On the Monday after the Preakness, Imus announced on his show that he wanted to take the $23,146 and "let it ride" on the Belmont Stakes (gr. I) June 9. NTRA and the New York Racing Association said they would add a little extra to the bankroll, guaranteeing $35,000. Then, Imus added $10,000 and Francesa $5,000, putting their stake at $50,000. Bo Dietl, another regular guest on Imus, liked the idea so much he doubled it, giving the Imus show $100,000 to bet on the Belmont. Again, all profits go to the charity, and the various parties will match any losses with donations to the charity. In other words, the Imus Ranch will get at least $100,000. NTRA and NYRA are responsible for $35,000 of that amount. Most of the four hours of the May 21 Imus show was spent talking about the Preakness and Belmont Stakes. You can bet the conversations will increase as the Triple Crown's final jewel gets closer. It was the smartest $35,000 the NTRA has ever spent.
FREE! E-Newsletters from The Blood-Horse!...
Follow the top stories of major racing events, racing previews and results with FREE e-newsletters from bloodhorse.com. As news develops, we'll deliver updates to your inbox. Follow important events moment by moment, step by step!