KEEP Raises Nearly $4 Million
by Esther Marr
Date Posted: 12/11/2007 9:52:43 AM
Last Updated: 12/14/2007 9:12:22 AM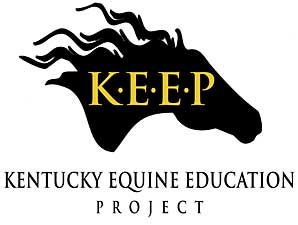 Photo: File Photo
Many horse industry figures were in the spirit of giving during the Kentucky Equine Education Project's stallion season auction, billed with the tag line, "No Time to Hold Your Horses." The auction was held for the first time since 2004 to benefit causes supported by the organization.
More than $2.7 million was raised during a live auction, with another $1.1 million from silent auction proceeds, making the event total around $3.8 million. With an inventory of seasons to sell totaling at $170,500, the grand total for the fundraising effort is estimated at more than $4 million.

The live auction topper was a season to Distorted Humor , which brought $300,000. The second-highest price came when a season to A.P. Indywas purchased for $255,000. Overbrook Farm also donated a season to Storm Cat, which sold privately for $300,000.

KEEP officials said they could not immediately release the names of the top buyers at the auction.

"What a tremendous success for KEEP and the horse industry," said KEEP executive director Patrick Neely. "I want to thank all of the stallion managers, farm managers and shareholders for their generous donations. This was by far the biggest stallion season auction ever held both in terms of stallion seasons (184) and money raised."

In all, nine seasons brought six figures during the live auction, including Smart Strike , the sire of this year's Breeders' Cup Classic - Powered by Dodge (gr. I) winner Curlin. The Smart Strike season was purchased for $155,000.

"I could not be happier," KEEP chairman Brereton Jones said of the live auction, which raised at least $500,000 more than the 2004 event.

"The most important part about this is that all breeds are working together," Jones said. "The horse industry is working in a positive, productive way to say to all of Kentucky that we want to do what's right to build a stronger economy for this state, and we want everybody to work together in the process."

Jones said the funds from the auction would aid KEEP's efforts in standing behind two main pieces of legislation: tax equity for horse supplies and casino gaming.

"When we agree upon the gaming legislation, then we want to get behind it and be able to articulate that position through television, radio, newspaper, and magazine," Jones said.

Earlier in the evening, Jones noted in his opening comments the election of Gov. Steve Beshear, who stands behind the gaming issue, as well as other legislators who will stand with KEEP in helping to get a casino bill passed. "We're on the verge of getting the gaming issue done," he said. "This is going to happen, and it's something we should be excited about. Tonight will give us the funding to help make this all possible."

Unlike the organization's 2004 auction, about 80% of the seasons offered at this year's event were sold with a provision that in the event the 2008 mating does not produce a live foal, the season buyer would have a complimentary breed-back to that stallion in 2009, provided the stallion was available. Distorted Humor and A.P. Indyhave fees of $300,000 and were sold at the auction with the breed-back guarantee. Bringing his $300,000 stud fee, Storm Cat's private sale came with a live foal guarantee.

The live auction figure was bolstered by the money generated from a silent auction, which included 144 stallion seasons in Thoroughbreds, Quarter Horses, Standardbreds, and other horse breeds; six additional stallion seasons to be sold privately; and four miscellaneous big-ticket items.

Prices for Thoroughbred seasons sold at KEEP (live auction only; guarantee, unless otherwise noted):
A.P. Indy -- $255,000
Aldebaran -- $15,000
Bernardini-- $115,000
Bluegrass Cat-- $45,000
Broken Vow -- $37,000
Corinthian -- $39,000
Distorted Humor -- $300,000
Dixie Union-- $41,000
Dynaformer -- $145,000
El Corredor -- $21,000 (no guarantee)
El Prado-- $50,000
Elusive Quality -- $62,000
Empire Maker-- $80,000
English Channel -- $20,000
Fusaichi Pegasus -- $40,000
Giant's Causeway -- $110,000
Grand Slam-- $31,000
Harlan's Holiday-- $38,000
Indian Charlie-- $45,000
Invasor-- $31,000
Jazil-- $10,000
Johannesburg -- $60,000
Mineshaft -- $49,000
More Than Ready -- $45,000
Posse -- $26,000
Rahy-- $55,000
Rock Hard Ten-- $40,000
Smart Strike -- $155,000
Speightstown -- $30,000
Storm Cat-- $230,000
Stormy Atlantic -- $35,000 (no guarantee)
Street Cry-- $110,000
Successful Appeal -- $38,000
Tiznow -- $35,000
Unbridled's Song-- $115,000
Vindication -- $47,000 (no guarantee)
Copyright © 2015 The Blood-Horse, Inc. All Rights Reserved.