MEC Officials Promise to Keep Chipping Away at Debt
by Ryan Conley
Date Posted: 11/2/2007 1:58:13 PM
Last Updated: 11/3/2007 1:29:01 PM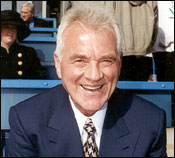 Interim Magna CEO and Chairman Frank Stronach has put $20 million into the company recently.
Photo: Anne M. Eberhardt

Magna Entertainment blamed the weak performance of its slots operation at Gulfstream Park Racing & Casino as a key to another in a series of poor financial quarters, as the company announced a $49.8 million net loss ending Sept. 30.

An executive team that included interim chief executive officer and chairman Frank Stronach presented the quarterly results during a Nov. 2 conference call with analysts and media members.

MEC, which has posted combined net losses of $359.1 million in the last three-plus years, also has an accumulated deficit of $467.1 million and working capital deficiency of $164.8 million, according to financial numbers released by the company.

Gulfstream Park, which was dark during the quarter in regards to racing, helped MEC's Florida division lose $8.5 million in EBITDA (earnings before interest, income taxes, depreciation, and amortization ), nearly double the loss registered a year ago when the facility was without slots.

"The primary contributor to our weak financial results this quarter is Gulfstream Park, as its slots operation continues to under-perform," said Blake Tohana, MEC's chief financial officer. "Daily net-win per machine was $74 in the quarter. This must be improved."

The Gulfstream net-win, which according to state data averaged a low of $68 during the month of August, paled in comparison to other Broward County pari-mutuel facilities – The Isle Casino and Racing at Pompano Park was above $200 throughout the quarter, and the Mardi Gras Racetrack and Gaming Center averaged above $160.

MEC has named Steve Calabro as vice-president of gaming operations to help counteract the weak slots performance.

"He is a seasoned gaming executive with more than 25 years industry experience, and has already identified multiple improvement opportunities for Gulfstream Park's slots operations," Tohana said.

Stronach, whose family trust recently purchased $20 million in MEC shares as a way to infuse working capital into the company, remains bullish on his racing conglomerate and its effort to drive down debilitating debt.

"I just invested $20 million -- that means I do believe in the future," Stronach said. "And we have a lot of excess real estate, and I have absolutely no worries that MEC will be a great company. So, we have no problems (in handling) things financially. I want to make you sure of that."

Consultant Tom Hodgson, a former CEO of Magna Entertainment who was brought into spearhead the company's debt reduction, reiterated previously announced plans for asset sales.

Hodgson said properties in Dixon, Calif., Ocala, Fla. and Porter, N.Y. have been listed for sale with brokers, as has the Great Lakes Downs facility the company owns in Muskegon, Mich. Banking company Bear Stearns is handling the sale process of two other tracks, Remington Park in Oklahoma City, Okla., and Thistledown near Cleveland, Ohio.

"It is too early to comment, but we are pleased with initial interest," Hodgson said. "We are gratified by the level of interests in these assets."

Hodgson repeated that he hopes MEC can raise $600 million to $700 million by the end of 2008, and said the company is still seeking opportunities for unspecified joint ventures and partnerships at some of its racetracks.

"But we can't do everything at the same time," he said.

MEC officials also noted the efforts of Maryland Gov. Martin O'Malley, who has submitted proposals in a special legislative session that would allow slot machines at five facilities in the state, including Laurel Park.

"In the final analysis, there has to be a more level playing field," said Stronach, noting the racinos located in neighboring states of Delaware, Pennsylvania and West Virginia.

Without aid from the government, Stronach said, "horse racing would face greater problems, and horse racing could be drastically reduced, and jobs could be lost. We hope we come up with a constructive framework."



Copyright © 2015 The Blood-Horse, Inc. All Rights Reserved.