Some Not Happy with Breeders' Cup Experience
by Ryan Conley
Date Posted: 10/31/2007 3:01:17 PM
Last Updated: 11/1/2007 8:52:47 PM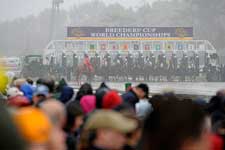 Some patrons felt more than weather was to blame for the downturn in Breeders' Cup handle.
Photo: Anne M. Eberhardt
Some patrons of the Breeders' Cup World Championships didn't have a good time, and they aren't blaming it on the weather.

The Blood-Horse has received a few e-mails from people complaining about a variety of issues with the Breeders' Cup, which was held Oct. 26-27 at a rainy Monmouth Park.

Some complained about long lines at betting windows, a lack of proper wagering stations, inexperienced mutuel clerks, and parking problems.

"I was at the Breeders' Cup, and there is no way weather was the sole reason for the decline in wagering," wrote Neil Parker of Harrisburg, Pa., noting the estimated 16% to 17% drop in all-sources handle realized for the inaugural two-day event.

"I made about 12 wagers at the track, and only three of (them) were taken by seasoned tellers," he said. "The others didn't have a clue. One person actually said, 'A Pick-4? What's that?' A teller next to them had to help them make the wager. This resulted in slow lines and people getting shut out."
For as many people who complained, however, there were as many comments from racing fans who said they didn't have any problems and would gladly attend another Breeders' Cup at Monmouth Park.
"I went to the Breeders' Cup in 2005 (Belmont Park) and actually much perferred the 2007 edition," wrote Susan Munson, 17. "We got to see some amazing horses, some spectacular performances, and experience the Breeders' Cup without the overcrowding my friend said she experienced last year at Churchill Downs."
Tom Swales wrote to say he sat in the grandstand and never got shut out on a wager, nor did he see anyone else get shut out.
"During one of the races I went to the window with only four minutes to post, figuring I had no shot of getting a wager in, and I was back in my seat with three minutes to post, ticket in hand," Swales wrote. "I do not know where the people complaining were sitting, but in my area, the mezzanine grandstand, which was probably the most crowded in the park, I did not see any problems. I went to a number of different windows to make bets, and every teller seemed to be knowledgeable and moved as quickly as the patrons fed them wagers."
Dennis Dowd, senior vice president of racing for the New Jersey Sports & Exposition Authority, said he had few complaints and was unaware of any major problems. But he did allow that some of the imported clerks had a learning curve with Monmouth's equipment.

"We brought in clerks in from places like Kentucky, Maryland, and upstate New York," he said. "Some of it depends on what tote equipment they use in their home state and how quickly they could familiarize themselves with our equipment. And as in any profession, you are going to get good ones and bad ones."

The New Jersey Account Wagering system evidently also had problems. Some complained the Web site was extremely slow or crashed altogether, video feed to certain races was lost, and account balances were sporadically updated.

"The Colorado Rockies and Monmouth Park were two minor league teams playing in the majors," wrote Don Reed of Cliffside Park, N.J., referring to the World Series loser to the Boston Red Sox. "They suffered simultaneous, identical fates."

Dowd conceded heavy traffic on Breeders' Cup days produced unanticipated connectivity issues on the NJAW Web site. He said the NJSEA had been working to secure a new platform provider but couldn't button up all contractual details before the Breeders' Cup.

"With Breeders' Cup breathing down our back, we decided to stick with what we had," he said. "This system was unprepared to handle it. But we are working to change it."

But Dowd said wagers lost on the NJAW site -- which he believed handled about $500,000 in bets -- didn't impact overall handle decline as much as the weather did, as some suggested.

"I am old racetrack guy. I hate to see anyone shut out," he said. "But I think the performance issues, while they existed, didn't affect the handle as much as the weather."

Dowd cited a "big gambler" he spoke with who came to Monmouth for the Friday card but did not return Saturday. Said Dowd: "I called him, and he said, 'I am not a big player when the track is muddy.' A lot of big players are like that."

Peter Land, chief marketing officer for the Breeders' Cup, said he hasn't heard of many issues arising from the Monmouth production. But he also said it was understandable why some people have complaints, particularly at large attended events like the Breeders' Cup.

"Any time there are events where you have 50,000 people and are stretching the limits of the facility, it is natural to have people say things didn't go right for them," he said. "That said, it's still not acceptable to us. We understand the realities, that for whatever reason, people didn't have a good experience.

"We welcome the feedback. From a customer service standpoint, we want to hear about it. Our job is to collect as much data as possible -- specific complaints that people have -- and act on them when we can."
Copyright © 2015 The Blood-Horse, Inc. All Rights Reserved.