Many Ups, Few Downs for West Point Thoroughbreds
by Ryan Conley
Date Posted: 10/25/2007 3:12:08 PM
Last Updated: 10/28/2007 1:55:50 AM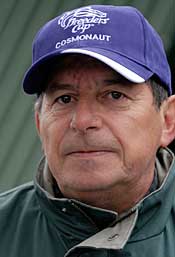 Francois Parisel will saddle Irish Smoke in the Breeders' cup Juvenile Fillies (gr. 1) for West Point Thoroughbreds.
Photo: Anne M. Eberhardt

While Terry Finley is flying high with his West Point Thoroughbreds having interests in five horses entered in the Oct. 26-27 Breeders' Cup World Championships, the owner and his partners are lying low with regard to one of their former trainers.

Finley, who formed West Point Thoroughbreds in 1991, said the recent suspension of trainer Patrick Biancone has caused a few awkward moments for him and his partners in Juvenile Fillies (gr. I) entrant Irish Smoke.

Biancone, who just a couple of weeks before the Breeders' Cup accepted a one-year suspension from Kentucky stewards for possession of the prohibited substance cobra venom, transferred Irish Smoke and some other horses to his assistant, Francois Parisel.

Finley said the situation has been "uncomfortable."

"For everyone on the team, it's a tough spot," he said. "We are all trying to figure out what to say. You want to support Patrick, and we don't want to come off like we are at odds with anyone. We have kind of laid low and are kind of letting everything play out."

Finley said keeping the winner of the Spinaway Stakes (gr. I) with Parisel makes sense for now.

"We just didn't think it was fair, especially to the partners, to make a change before the Breeders' Cup." he said. "It's the same system. It's the same feed. It's the same groom.

"We just thought that was the prudent thing," he continued. "They handed down the penalty. We accepted it, and we will move on. You shrug your shoulders and say, 'That's the way it is. It's OK.' Once we get past the Breeders' Cup, we will figure it all out."

Biancone was one of six trainers regularly employed by West Point Thoroughbreds, including three with Breeders' Cup horses: Craig Dollase with Awesome Gem in the Classic – Powered by Dodge (gr. I); Kiaran McLaughlin with Lear's Princess in the Emirates Airlines Distaff (gr. I); and Richard Violette, Jr. with Dream Rush and High Finance in the Filly & Mare Sprint and Dirt Mile, respectively.

Lewis Lakin has a listed ownership interest with West Point in Irish Smoke, and with John Sikura and West Point in Dream Rush. West Point Thoroughbreds has about 430 investor-partners under its umbrella, and Finley said excitement is building for those with Breeders' Cup horses.

"I have done a lot of work getting the tickets and accommodations for the partners," he said Oct. 25. "So the excitement level and the anticipation for the weekend is really starting to hit. Over the next 48 hours, it's going to get more and more exciting.

"The partners are the ones that write the checks out. It might sound corny, but I am proud to represent them here, and in the paddock, and if we get lucky, in the winner's circle."

West Point has had two other starters in the Breeders' Cup -- Ethan Man finished 10th in the 2003 Sprint while Yolanda B. Too was 12th in the 2005 Distaff.

But Finley said he is hoping for bigger things in this year's rendition of the Breeders' Cup, and is proud of West Point's stature against bigger ownership outfits.

"We are very proud of the record of our horses, they have performed well from the beginning of the summer on," he said. "We are just proud to be even be talked about in that vein. We know the big dance is on Friday and Saturday, and we will let that work its way out. It's just an honor to be here and field a question like that."



Copyright © 2015 The Blood-Horse, Inc. All Rights Reserved.