Pletcher Reviews Breeders' Cup Starters
by Claire Novak
Date Posted: 10/24/2007 1:56:44 PM
Last Updated: 10/25/2007 8:08:22 PM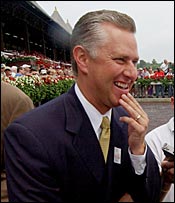 Todd Pletcher
Photo: Skip Dickstein
Two days before the Oct. 26-27 Breeders' Cup World Championships, trainer Todd Pletcher reviewed his 11 starters and shared his thoughts on the upcoming races, including possible scratches should the surfaces turn up wet or yielding due to weekend showers.

Breeders' Cup Classic – Powered by Dodge (gr. I): Lawyer Ron and Any Given Saturday

"Lawyer Ron's turning point was obviously the Whitney Handicap (gr. I), when he stepped his game up to the highest level. He had shown signs of leading up to that, but it was a breakthrough performance.
"The Jockey Club Gold Cup (gr. I) was not quite as good (second to Curlin), but I think we learned a little something about the way we need to ride him in this race, and hopefully not winning that day will have improved his performance this time. I think in the Jockey Club it would have been better to go a little faster rather than trying to restrain him and hold back. I'm not concerned if we're on the lead or second or fourth; I just don't want to be in his mouth trying to restrain him more than he wants to be restrained.

"My biggest fear is if Lawyer Ron and Hard Spun get involved in speed duel. We'll try to avoid that and have to hope that one of us clears off and the other settles to allow both horses to run their races. It looks to me on paper like those two are the main speed."– Lawyer Ron starts from post one under John Velazquez

"Any Given Saturday, when he ran so well in the Haskell (gr. I), (prompted) the decision to focus on the Classic instead of the Travers (gr. I). Everything has gone according to plan; so far, so good. He got a great freshening in the Brooklyn (gr. II) and now he's back at Monmouth, where he ran the greatest race of his career. He shows up here with the credentials to do anything." – Any Given Saturday starts from post three under Garrett Gomez

John Deere Breeders' Cup Turf (gr. I): English Channel

"When you have a horse like English Channel who is handy and runs turns well, it certainly helps him to (tackle three turns). To me the most important thing and what I try to tell my riders about three turns is that you've really gotta try to save some ground on the first two turns. If you're swung out three wide it's tough to overcome those kinds of trips. So one thing we'll try to focus on is getting into a situation where we can save ground at least on the first two turns, and if we can do that to try and be coming forward on the last one. You wouldn't think on a mile-and-a-half race that post position is critical, but when you're running horses of this caliber not a whole lot separates them, and a three-wide trip around two of three turns makes a big difference.

"As far as Dylan Thomas is concerned, he's very, very good, and with what appears to be some give on the ground for a horse like that who has accomplished everything he has, you can have nothing but the highest respect for him. We hope three turns is not his specialty and with him running on the tighter turf course and coming back on short rest after winning the Arc, hopefully things (will) go in our favor." – English Channel breaks from post six under John Velazquez

Breeders' Cup Juvenile Turf : The Leopard

"We had high hopes for him when got in, and in the back of my mind he has a lot of turf pedigree on the bottom side. He ran well the first time out, broke his maiden second time out at Saratoga, and we went to the Belmont Futurity (gr. II) optimistic that he was going to run well. He ran OK in there, and if the Juvenile Turf had not been an option we probably would have tried him one more time on the dirt. But since that option was there… we sort of at that time changed our focus. But I thought he worked pretty well the other morning; he worked on a soft-to-yielding turf course and seemed to handle it well." – The Leopard breaks from post three under John Velazquez

Emirates Airlines Breeders' Cup Distaff (gr. I): Indian Vale, Octave, Unbridled Belle

"Octave is the kind of filly that as a trainer you absolutely love. She's run well every start of her life. She's adaptable to different pace scenarios and is very competitive; she gives a solid effort. It's been unfortunate for her that she's run in the shadow of Rags to Riches a little bit, and actually I thought she ran a huge race in the Kentucky Oaks (gr. I). She's been a little bit unlucky not to win a couple more races. But she always shows up, she always runs hard, runs well over anything and has performed well at so many different venues. She's getting a little overlooked here, and that could be a mistake." – Octave breaks from post eight under Garrett Gomez

"Indian Vale didn't run particularly well over the wet track this year at Churchill Downs this summer (and is now coming off a second-place finish in the Beldame (gr. I) behind stablemate Unbridled Belle)." – Indian Vale breaks from post 10 under John Velazquez

"Unbridled Belle should be interesting. She's such a big filly and she has such a powerful action she'll probably handle a wet track fine, but you don't really know until you get there. We'll get clues as to how the track's playing all week; it'll probably be a Monmouth-type track where speed is good and the inside is good as well." – Unbridled Belle breaks from post 11 under Ramon Dominguez

Emirates Airlines Filly and Mare Turf (gr. I): Wait a While, Honey Ryder

"Wait a While will take a raceday decision where the yielding turf is concerned. If I feel the ground is less than satisfactory with her, I may scratch and go in something like the Matriarch (gr. I)." – Wait a While breaks from post five under Garrett Gomez

"Honey Ryder can handle soft going fine, as long as it's not a bog. I thought she ran quite well in the United Nations (gr. I) second to English Channel. I expect to see her run one of her best races." – Honey Ryder breaks from post two under John Velazquez

NetJets Breeders' Cup Mile (gr. I): Icy Atlantic, Host

"The one horse who had a great year I really didn't expect is Icy Atlantic. He certainly won't be one of the choices in the Mile but at this time last year we purchased him as a pacesetter for English Channel. He did his job in the Joe Hirsch Turf Classic (gr. I) and the Breeders' Cup Turf (gr. I), but after that he's gone on and done very good things on his own. We looked at the possibility of using him as a pacesetter but really didn't see the need; with Fri Guy we felt there'd be other speed.

"It's amazing because you try to do everything right with so many horses and things don't pan out, and we did everything wrong and used him as a pacesetter early in his career. It's obviously a very tall order for him running against these types of horses, but he does hold the track record at a mile and has shown affinity for the course. – Icy Atlantic breaks from post two under Christopher DeCarlo

"Host, I think is in a little bit of the same boat as Icy Atlantic. It's a tall order for him; there are some very, very top milers in here. He has run races in his career that would put him in the mix, but he's obviously gotta run an outstanding race. He's a grade I winner at a mile and he's got the kind of style where he's gonna drop back and make one run. Sometimes those kind of horses can be dangerous if they get a good trip. We're asking a lot of him, but he's showed us in the past he's capable of it and we're gonna give him a try." – Host breaks from post four under Garrett Gomez
Copyright © 2015 The Blood-Horse, Inc. All Rights Reserved.