Jockeys Get Mount-Fee Increase, Pension Assistance
by Blood-Horse Staff
Date Posted: 10/16/2007 11:30:27 AM
Last Updated: 10/16/2007 12:31:09 PM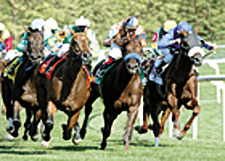 Photo: Benoit
Two separate pieces of legislation passed by both houses of the California legislature and signed by Gov. Arnold Schwarzenegger provide for an increase in mount fees for jockeys as well as a contribution to a pension plan for riders.
One bill will substantially increase losing mount fees in California. According to an Oct. 16 release from the Jockeys' Guild, the average fee will increase by about 50% by Dec. 31, 2011. Thereafter, the mount fees will increase by the percentage that the minimum wage is increased.
In addition, in Thoroughbred races, jockeys who finish in fourth-place will be entitled to 2% of the owner's share of the purse.
The other bill, which reauthorizes advance deposit wagering in California, includes about $1 million per year for the establishment of a pension plan for California jockeys.
"This is a major step forward for the jockeys," John Velazquez, chairman of the board of directors of the Jockeys' Guild, said in a statement. "In California, jockeys now receive contributions to health and welfare, a pension plan, and have received an increase in mount fees. We would like this structure to be a model for other states."
Copyright © 2015 The Blood-Horse, Inc. All Rights Reserved.