Growth in Average and Top End Make Midlantic a Standout
by Ron Mitchell
Date Posted: 10/4/2007 5:48:13 PM
Last Updated: 10/4/2007 8:05:22 PM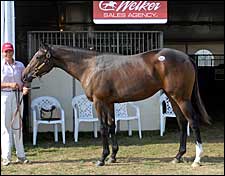 Midatlantic Sales-Topper; filly, Stormy Atlantic - Princess Birdeye by Indian Charlie.
Photo: Lydia Williams

With an increase in average price and strength at the top of the market, the Fasig-Tipton Midlantic Sale that concluded Wednesday, Oct. 3, was an anomaly in the North American yearling market so far this year.

Fasig-Tipton reported a 4.8% gain in the average price to $23,225 from an average of $22,159 a year ago, while the $10,000 median reflected a decline of 13%. Gross sales dropped 8.6% to $13.3 million, but the number of horses offered also fell 20.3% this year compared with the number offered in 2006.

Average prices have fallen at a majority of the 10 major yearling auctions held so far in 2007, including a 21.4% decline at the one-day yearling sale conducted in California on Oct. 2 by Barretts Equine Ltd., in conjunction with the California Thoroughbred Breeders Association.

The Midlantic auction was also noteworthy because the strength of the sale came at the top, not middle, of the market as it had at the Fasig-Tipton Saratoga and marathon Keeneland September yearling sale. It should be noted, however, that the price range at the top of the Midlantic market would be considered the middle at the other two sales. But it's all relative, and the figures show yearlings sold in the upper end of the sale at the Maryland State Fairgrounds in Timonium outpaced all the other price ranges except one.

The very bottom remained unchanged, with exactly 172 horses bringing final bids between $0-$4,999. The $5,000-$9,999 range experienced a nominal decline, from 119 in 2006 to 111 this year, but the real changes occurred in the next two price ranges. Horses selling for prices between $10,000-$19,999 totaled 95 in 2007, compared with 138 last year – a 31.2% drop. Similarly, there was a 31% decline in horses that sold for $20,000-$39,999.

The biggest gain came in the $80,000-$99,999 price range as there were 13 such yearlings sold this year, compared with six last year – a 116.7% difference.

There were only two more horses that fetched final bids in excess of $100,000 this year – 27 compared with 25 – but the very top price of $325,000 paid for a Stormy Atlantic filly during the middle of three sessions represented a 47.7% improvement over last year's $220,000 high price for the sale.

Overall, the Midlantic auction was a solid sale and is another indication that there continues to be strong demand and interest in yearlings offered within regional markets. --Ron Mitchell



Copyright © 2015 The Blood-Horse, Inc. All Rights Reserved.