Santos Explores Options in Retirement
by Claire Novak
Date Posted: 10/3/2007 7:30:21 PM
Last Updated: 10/3/2007 11:20:34 PM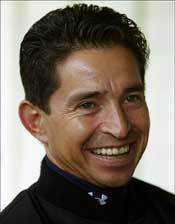 Jose Santos
Photo: Barbara D. Livingston
After retiring from racing July 30 due to five fractured vertebrae sustained in a February spill at Aqueduct, Hall of Fame jockey Jose Santos is exploring ways to share his expertise with racing fans and companies.

Santos, 46, announced the formation of a new company – Hispanic Thoroughbred Marketing – late last week, and has actively pursued meetings with tracks and other racing-related businesses since then. He is scheduled to meet with officials at Gulfstream Park Oct. 17 and hopes to have meetings with Magna Entertainment and the New York Racing Association in the near future.
"The Spanish population (in America) has grown so much," Santos said Oct. 3. "On television, you can watch baseball, football, many of the major sports in America broadcast in English and Spanish also. So why can't we do that with horse racing? I can tell you, probably 50% of the people in racing are Hispanic, or at least 70% of the jockeys are. Also, in South American countries there's a big interest in racing but the people don't understand English; they just see the pictures."

Bob Goodman, a Florida-based advertising executive who assisted Santos with the incorporation of Hispanic Thoroughbred Marketing, said, "Jose has a good television presence and I think there will be opportunities for him in broadcasting, especially in the Spanish market. There have been so many meetings and conferences with people coming together to discover how to expand racing – there are many good ideas out there, but I don't think anyone has talked about this base, this area."

Goodman said the company is "just starting," but plans to employ Santos' knowledge of Hispanic language and culture to make positive overall gains for the racing industry.

"I think it's a great concept," Santos said. "It's something that's never been touched before, and we're the first ones to do it. I'm very excited to do this, so hopefully it'll take off."


Copyright © 2015 The Blood-Horse, Inc. All Rights Reserved.