Countdown Looms on Sales Integrity Task Force Recommendations
by Ryan Conley
Date Posted: 9/5/2007 4:22:29 PM
Last Updated: 9/7/2007 5:40:38 PM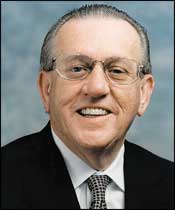 Kentucky Rep. Larry Clark
Photo: File Photo

The clock is ticking on the Sales Integrity Task Force to recommend solutions for negative issues involving horse sales in Kentucky, and while one industry leader claims progress is being made, others wonder what is actually going on behind closed doors.

The task force, which as part of an 11th-hour compromise in February was given charge of examining stringent proposed legislation backed by horse owner Jess Jackson, has until the end of the year to propose final recommendations to the Kentucky legislature.

So, with six months down, and four to go — and dealing with such hot-button issues as ownership disclosure, medical disclosure, and agent licensing — where does the task force stand?

"The job for the task force was to determine the extent of the problems outlined by the legislation, and determine industry consensus around solutions to those problems," said National Thoroughbred Racing Association president Alex Waldrop, who is mediating the task force discussions. "And that process continues. There has been no final determination in any of the areas. There has been no final determination on whether there is need for legislative or non-legislative solutions."

That's all fine and good, said Kentucky Rep. Larry Clark, who co-sponsored the original bill. But he promises action if the group doesn't produce something worthwhile.

"They have a chance to take the time and deal with the issue, or we will have the task of dealing with it in Frankfort," said Clark of next year's legislative session in the state's capital city. "I am just patiently waiting. And in 2008, we will decide if they have delivered good public policy. If not, the bill will be reintroduced by me and hopefully passed."

Clark is somewhat miffed that he hasn't been kept better informed on the progress of the task force. When the task force met for the first time in May — almost three months after the legislation was tabled — it was decided that meetings would be private, excluding the public and the media.

"I am disappointed as the sponsor of the bill that there hasn't been better communications with me," he said. "I think out of courtesy to the legislative sponsor of the legislation, the entities ought to have enough respect for that sponsor to at least talk to him or give him a briefing as we go along."

Clark said he is also not pleased with the perception the 36-member task force is slanted toward consignors and auction house executives.

"It's self-interest. It's a stacked committee," he said. "But they need to realize that it is not going to be business as usual."

The task force's first report to the legislature was in June, an event that basically outlined the committee assignments of members. Another report to the House Licensing and Occupational Committee is scheduled Sept. 13.

Waldrop declined to discuss details of the upcoming report and defended the task force policy of secret meetings.

"I am of the opinion we would not have made the progress we have made so far had we not had these conversations behind closed doors," he said. "Have we been criticized? Yes. But I think we have to wait until the final outcome is done to make a judgment."

Waldrop said public input will be an important part of the process. He anticipates some sort of public forum will be held in the weeks ahead.

"Our goal is to reach consensus on all issues at the late September meeting," he said, noting the next scheduled full meeting of the task force. "At that point in time, we will determine a communications briefing — which may or may not include press briefings — and other public hearings for people to discuss the proposed solutions, and to help reach a final determination."

The Jackson camp, which is part of the task force, has refrained from public comment throughout the process. But Jackson's corporate attorney recently said there is much work to be done, particularly if the solutions involve self-regulation.

"We have serious concerns that the recommendations being put forth by the task force are enforceable and effective enough to address the issues that prompted the legislation," said Kevin McGee, who is also president of the Horse Owners' Protective Association advocacy group. "To this point, we haven't seen a self-regulation-oriented recommendation that is sufficiently enforceable and effective. We are not there yet."

Clark said he is not against recommendations that would allow the industry to regulate itself.

"I would rather the industry come up with a good self-policy position to diminish the need for legislation," he said. "But if they don't, then I am going to move forward with some kind of legislation to make sure there is transparency."

Transparency is also the buzzword in Florida, where a bill signed into law in June empowers the state's Department of Agriculture to develop rules governing horse auctions, particularly in the areas of dual agency, owner disclosure, and medical disclosure. A department spokesman said an Oct. 29 public forum in Tallahassee will be a keystone event for planning.

"We want all interested parties and all interested stakeholders present to make any recommendations; to make testimony, to offer thoughts, to offer critiques, and so forth," said Terence McElroy, the department's communications director. "We want to make sure every viewpoint is heard."

There has been discussion about whether the law, which was backed by horse owner and Florida resident Earle I. Mack, gives the department the right to enact punitive actions for offenders.

"A lot of things need to be determined," McElroy said. "We are going to have staff people and general counsel looking at all of this."

While there is no deadline for the rules to be implemented, McElroy said the sooner they are done, the better.

"Obviously we want to move it along," he said. "We will take our time to the extent we want to get it right, but we don't want to prolong it unnecessarily."



Copyright © 2015 The Blood-Horse, Inc. All Rights Reserved.