A Day At The Spa: Aug. 26, Let it Linger
by Claire Novak
Date Posted: 8/26/2007 12:16:55 PM
Last Updated: 8/27/2007 11:14:17 AM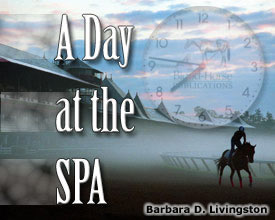 The canoe in the infield pond has been painted in James Tafel's colors of yellow and blue. Street Sense is safely recovering from his exertion. Another Travers is in the record books.

Talk about feeling the air go out of the balloon.

We waited, watched, and wondered if the big bay colt could do it, could impress us again, could hang on. He did, and we smiled. It is strikingly satisfying to watch greatness go undefeated. We cheered for the opponent, because everyone loves a breathtaking race, and thanks to Grasshopper we saw one unfold before our eyes.

Today, the atmosphere around the track is quiet, subdued. A feeling of weariness envelops the workers and horsemen. There are ten races on the card, the feature is the grade I Ballerina, and eight racing days remain until the end of the season.

Sunday and Monday will be low-key afternoons. Tuesday, everyone takes an afternoon nap. Wednesday, we'll come back strong for a final week of racing at the Spa.

But for now, the feeling of excitement has dwindled.

"After the Travers, everybody says, 'That's it, time to go home!'" says Jerry Bossert of the Daily News.

This morning, on the way to the track, several horse vans were doing just that. Back to Belmont. On to Keeneland. To the farm for a layoff.

The feeling is bittersweet. The season is almost over, but when we think of that fact, we don't want it to end.

We want to let it linger.

And it does.
Copyright © 2015 The Blood-Horse, Inc. All Rights Reserved.