Sightseeing Seeks Travers Showdown with Street Sense
by Claire Novak
Date Posted: 8/23/2007 3:38:10 PM
Last Updated: 8/25/2007 12:56:53 PM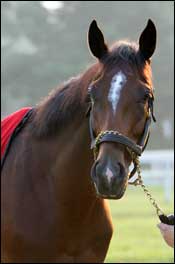 Sightseeing is ready to take on Street Sense.
Photo: Barbara D. Livingston
Going into a race, Carl Nafzger doesn't worry about the competition. In his view, you can only train one horse, and that's your horse. Were he concerned about a specific runner for Street Sense to beat in the Aug. 25 Travers (gr. I), however, it would be the Phipps Stable's Sightseeing, a colt who is in what trainer Shug McGaughey terms the "best mental condition" of his 3-year-old career.

A son of Pulpitand the third-place finisher behind Street Sense and CP West in his last start, the July 29 Jim Dandy Stakes (gr. II) at Saratoga, Sightseeing definitely needed to improve his mental game going into his fall campaign. Previously, he lacked the aggressive closing kick it took to overcome his competition, and it took three attempts this year – a third and two seconds, one in the Wood Memorial (gr. I) – before he scored a narrow victory over Prom Shoes in the May 20 Peter Pan (gr. II) at Belmont Park.

The colt's next start was the July 4 Dwyer (gr. II), in which he finished third behind Any Given Saturday and Nobiz Like Shobiz. After a sluggish break, he hustled after the pace under jockey Edgar Prado and was slightly rank in doing so, McGaughey said.

"The thing I've been wanting to see is for him to be able to relax," said the trainer, who put the colt in blinkers for that start. "He had jumped in the bridle a little in the Dwyer, and I'd like to see him learn not to do that."

"He got a little aggressive early, which definitely wasn't the plan," Prado said. "The plan was to settle back and come from off the pace, which is his best running style. He's been a difficult horse to try and figure out. Sometimes he wants to take off early, and sometimes you have to work to make him come running. So we've been trying to find out exactly what he needs and where he wants to be."

In the Jim Dandy, Sightseeing finished much stronger, and his rally in the stretch - combined with strong works in the following weeks - convinced McGaughey that the Travers was where his colt belonged. Prado is also counting on the colt's improving mental game.

"He settled better for the first part of the Jim Dandy, and he came running with a strong finish," the jockey said. "In past races it's seemed like he comes running, but every time you think he's gonna go by and win, he hangs to look around a little bit. I know he has the tools and potential to run with these kinds of horses. He just needs to improve mentally, and I think he's starting to get it."

McGaughey noted that since the Dwyer, Sightseeing has definitely improved.
"I liked what I saw in the Jim Dandy, especially when he galloped out," the trainer said. "Since then, he's done everything I've wanted him to do. He had a spectacular work August 19, and he galloped strong. The exercise rider had to pull him up."

Sightseeing worked five furlongs in 1:00.88 at Saratoga Aug. 19 in his final prep for the Travers. Now, after skipping key races like the Derby and Belmont Stakes (gr. I), he may be sitting on the best effort of his 11-start career. The challenge is to make up two-and-a-half lengths to Street Sense from their only meeting.

"I know Shug, and I know how he puts things together," said Nafzger. "His horse has always been right there, and he's never given his big race. So he's definitely due to make the effort."

McGaughey, who won the Travers with Easy Goer (1989), Rhythm (1990), and Coronado's Quest (1998), said he "would have loved to run (Sightseeing) in the Belmont, and there's no race that I'd rather win than the Kentucky Derby, but I don't think (the horse) was ready, I don't think we could have won, and I don't think I'd be standing here today if we'd gone that route. Up until this point, he's taken baby steps. I've always believed he's a true staying horse, and I'm hoping he's improved enough to catch up to this bunch."

Copyright © 2015 The Blood-Horse, Inc. All Rights Reserved.