A Day At The Spa: Aug. 16, Chasing the 'chasers
by Claire Novak
Date Posted: 8/16/2007 8:23:31 AM
Last Updated: 8/16/2007 8:52:03 AM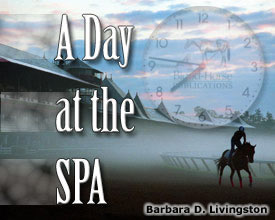 Every Thursday afternoon before the first race, the mood in the press box is decidedly grim. Each card leads off with a steeplechase event, and the handicappers – some of which have not picked a steeplechase winner since before the Kennedy administration – have no idea where to begin.

If anyone has a handle on the 'chasing scene, it's retired steeplechase rider Sean Clancy. According to Clancy, handicapping these bounding runners should be no greater challenge than handicapping a field of flat racers. The difference is simply in the game, which is slightly more unpredictable than usual.

"These horses are Thoroughbreds," Clancy says. "They have form, they're as predictable as any other racehorses. You look at the same factors; past performances, cycles, handicap off the trainers, all that. Last week's race was an allowance and the only horse with two victories behind him won. That's pretty basic handicapping."

Steeplechasers are known for their long careers, for racing until six, or nine, or 12. The longer spells between races seem to breed content, sane competitors.
"Most of the horses are trained off farms and turned out for the winter, they're turned out in paddocks every day," says Clancy. "If you look at a field of fox hunters, 75% of them are probably old steeplechasers. Steeplechasing keeps horses productive, and while the actual races are riskier to horses because they can fall, there's no question that a life as a steeplechaser is definitely better as far as having a future is concerned."

Today, a field of 10 goes postward in a $68,000 allowance optional claimer at two and three eighth miles over hurdles. Jonathan Sheppard trainee Divine Fortune will be the favorite. As Clancy remarks, "it's just a slightly different kind of gamble."
Copyright © 2015 The Blood-Horse, Inc. All Rights Reserved.