A Day At The Spa: Aug. 5, Clockers
by Claire Novak
Date Posted: 8/5/2007 12:49:19 PM
Last Updated: 8/12/2007 11:32:22 AM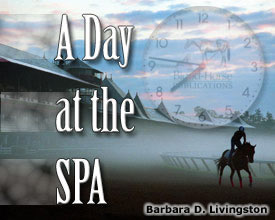 It's midmorning at Saratoga. The track has just been reopened after a regularly scheduled maintenance break, and about thirty riders are already making their way around toward the frontside. Up in the press box, half a dozen men peer down upon the congested scene. They wear baseball caps and sunglasses, keep pairs of binoculars close at hand, follow the progress of the galloping horses with obsessive concentration.

They are fixated upon speed, and upon the tracing and recording of it. They are the clockers. This is their morning:

"Light bay, light bay?"

"That was Control System."

"He's good, he's very good."

"Ran second in that race at Belmont… the winner had a very small star and a big snip."

"He goes a minute and three fifty."

"I liked that Weaver horse"

"Crimson saddle pad?"

"Thirty-seven and three fifths, that's what we're gonna give him."

"We've got some good horses up here all of the sudden."

"Good horses? Only one. The other horse was no good, no good I tell ya."

"Hey, Bobby, you got Zito's team?"

"Forty-nine and four."

"Forty-nine and three on the partner, the bay horse."

"Chestnut started two back, finished about three in front."

"So give him the fast time, bay gets the slow time."

"Frankel said 'I'm workin' a good horse.' Did he give you the name? Where's the horse?"

"He's working from the gate."

"How do you spell 'Akebono?'"

"That's the horse won first time out."

"I get those horses mixed up, Seeking No More and that other one."

"There goes Lovely Loretta."

"How about this horse, you got him from the quarter? I got him from the 3/16th pole."

"Capital 'A'-l-e-x Tyson for Domino."

"That Weaver horse any good, Bobby?"

"Good for forty-seven and change."

"Two Dominoes and a Dutrow going by."

"Right before the harrows one came through we didn't get."

"Oh, man, he stopped running"

"Loose horse. Is that a loose horse?"

"Going the wrong way, on the eighth pole."

"Whose horse is it?"

"I don't know, black saddle towel, Dale Romans, maybe?"

"Tell them the rider is fine."

"The horse is on the outside fence now. He turned around, he's coming back."

"He's trying to get out. He wants to get caught."

"He wants to go home."

"All right, they got him."

"Wait, we missed that worker while the horse was loose."

"Naw, I got him. He came from the five pole."

"You're good, you're sharp."

"I don't need to be sharp. I'm retired."

It goes on, from the time the first horse steps onto the track at 5:30 until the last late worker moseys off at 10. Spotters near each gap catch names and distances, communicate the information via radio. The clockers time the works. The "official" numbers are published in the Racing Form for bettors to scrutinize and agonize and compromise over.

Do workouts really tell us anything about a horse's chances of winning in the afternoon? The clockers think so. They look for the morning times to reveal things to come – great runners, great performances – but that doesn't always happen. A horse may run a blistering five eighths in the morning, then throw in the towel in the afternoon. Or, for some strange reason, he may turn in a lackluster training run, then shoot out of the gate and win by ten.

So we think of clockers as the racing world's unofficial weathermen; they give us a hint of a forecast, but we still have to look at the sky and decide whether to open the umbrella.

If there's one thing they prove, it's the fact that in racing – as in all of life – there are no guarantees.
Copyright © 2015 The Blood-Horse, Inc. All Rights Reserved.