Steve Haskin's Derby Report: Major Derby Works Conclude
Updated: Wednesday, May 2, 2001 1:27 PM
Posted: Tuesday, May 1, 2001 1:58 PM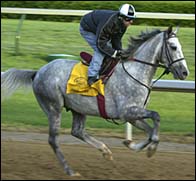 Photo: Anne M. Eberhardt
Jamaican Rum inadvertently hooked up with another horse in the stretch in his last work before Saturday's Kentucky Derby.
Another bright, mild morning saw the final flurry of Kentucky Derby works, as
Millennium Wind
,
Fifty Stars
,
Jamaican Rum
, and
Keats
all made the work tab. Now comes the task of sorting all through all the works we've seen over the past 10 days and trying to narrow down the three or four standout moves. We'll discuss these moves in Friday's Derby Report, along with the horses who have been the most impressive in their gallops and the ones who are flourishing physically and look to be sitting on a big effort. We'll combine all that with some logic, history, and speed figures, and narrow down the field to the three or four we feel will be peaking on Derby Day.The headliner on today's work tab was Millennium Wind, whose cracked heels and skin fungus have been a focus of attention since the Blue Grass Stakes. The son of Cryptoclearance came off that race a virtual mess, having also run down. But treatment has been successful, and those problems appear to be behind him, especially after today's work.With exercise rider Martin DeRubin aboard, Millennium Wind broke off smoothly and effortlessly from the five-furlong pole, cruising through a quarter in :23 2/5 and a half in :48. In the stretch, DeRubin, way up in the saddle, gave a shake of the left reins, and let the colt finish out on his own. He hit the wire in 1:00 2/5, with a final eighth in :12 2/5, and galloped out slowly in 1:16 for the six furlongs. This colt has a very efficient stride and get excellent extension. When he gets down to running, he drops his head and shoulders and really levels off, although his action is pretty high for a horse who drops that far down. One of the main things he has going for him is his disposition. Despite his problems, he is the consummate pro. Nothing seems to bother him, and he just goes about his business like he's seen it all before. We haven't seen him turn a hair, as they say, since we've been here. His feet are clean, with a patch on the inside of his right front foot the only sign of his past problems.Trainer Dave Hofmans will not do too much more with him before Saturday. Beginning tomorrow, he'll school in the paddock each day. Jockey Laffit Pincay is scheduled to arrive on Friday.
Stars out early
Louisiana Derby winner Fifty Stars, who has made a good impression each morning in his gallops and physical well-being, had another easy work this morning, going out at 6:45 for a half-mile breeze in :50. This followed last week's five-furlong drill in 1:02 1/5. This is not a colt with much speed, and he basically just does what he has to in the morning. But he does look very smooth doing it. With jockey Donnie Meche crouched over his neck, he basically cruised around there with his ears pricked, and, as usual, had his tongue flapping out the side of his mouth. After an opening quarter in :25 3/5, he came home his final quarter in :24 2/5 before galloping out five furlongs in 1:05.Trainer Steve Asmussen realizes that his colt has little speed, and he does not want to try to make him something he's not. He feels he'll be closing at the end, and hopes he can pick off as many horses as he can. He candidly said he's not looking for anything more than that. Fifty Stars is what he is, and if that's good enough for first, second, third, or fourth, Asmussen will come away satisfied. "We're here to pick up the pieces," he said.
An eventful run
Jamaican Rum had a most interesting five-furlong breeze this morning. Although he had an interesting incident in last work when he lost his action at the top of the stretch, he had no control over this one. He was aggressive jogging up to the five-furlong pole and got right into the bit, as he's been doing in his gallops. As he approached the quarter pole, he was joined on the outside by another worker, obviously looking for company down the stretch. Whether the rider knew he was hooking up with a Derby horse we have no idea, but the two horses did come home the final quarter mile virtually eyeball-to-eyeball.Jamaican Rum, on the inside, closed his final furlong in :12 flat and really didn't seem fazed by his unscheduled workmate. He completed the five furlongs in 1:01 2/5, galloping out six panels in 1:15 2/5. He action is not as smooth as some of the Derby contenders, but this certainly was a major improvement over his last work."I was very happy with his work, but upset over that other horse hooking up with him," trainer Jim Cassidy said. "It was totally uncalled for. But my horse was just playing with him."
Keats breezes easy half
Lexington winner Keats, who no doubt will add yet another element of speed to the Derby if he runs, breezed a half in :49 3/5 in company with Stolen View, who, yes, was his intended workmate. Keats is an attractive colt with a finely chiseled head who has a nice, easy way of moving. It was obvious he wanted to more than he was asked, as the rider had to keep tugging on the reins to keep him with his workmate. When he gave him his head inside the eighth pole, Keats quickly opened up several lengths to the wire.Trainer Niall O'Callaghan did not sound too enthusiastic about running back in two weeks in a race this tough, but said no decision will be made until he gets a chance to talk to the owner this afternoon after he returns from vacation.
Other news
-- After working Lone Star Derby winner
Percy Hope
a brisk half in :47 2/5 this morning, trainer Tony Reinstedler said he'll "take a pass," and point the colt for either the Preakness or Peter Pan Stakes.-- The Derby's latest addition,
Startac
, made his first appearance on the track, having an easy gallop. This is a big, long-striding colt, who really gets his head way down into the bit. He was powerhouse this morning, and had exercise rider Ralph Nicks' arms fully extended. He reminds us of another Paulson family horse named Fraise, who won the 1992 Breeders' Cup Turf. This colt likely is also a turf horse, but it was decided to take a shot here before returning to the grass. He did destroy his opponents in the Turf Paradise Derby, but didn't show that same punch in his two subsequent starts in Northern California. It's possible he simply didn't handle those tracks. On paper, he seems up against it, but we had him ranked pretty high for a while and still feel he's a very talented horse, even on dirt. If the pace is blistering and he doesn't lose contact with the field, he could pick off a lot of horses late.--
Monarchos
had another very strong gallop this morning. Trainer John Ward sent him out at 6:45, as opposed to past gallops, when he went out after the break. The reason is that Monarchos has gotten pretty aggressive lately, and he likes to gallop close to the rail. After the break, there are too many workers on the track, and gallopers have to stay well off the rail.Unlike most Derby trainers who fear Point Given, Ward said it is
Congaree
he fears the most, and that it has nothing to do with the fact that the son of Arazi just defeated Monarchos in the Wood Memorial. Ward simply feels he's a superior horse.--
Express Tour
had another excellent gallop this morning, and seems to be getting his head down a little more. In the past, he would gallop and work with his head held high. The son of Tour d'Or just seems to be moving forward and learning by the day. There are several question marks surrounding him, but he's looks like a very special horse.
FREE! E-Newsletters from The Blood-Horse!...
Follow the top stories of major racing events, racing previews and results with FREE e-newsletters from bloodhorse.com. As news develops, we'll deliver updates to your inbox. Follow important events moment by moment, step by step!