Stronach Tells CHRB He'll Use $24M on Upgrades
by Debbie Arrington
Date Posted: 6/19/2007 7:40:41 PM
Last Updated: 6/21/2007 2:28:54 PM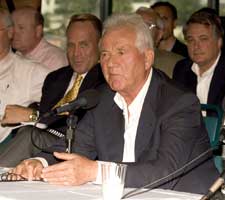 Frank Stronach at the California Horse Racing Board meeting, Tuesday, June 19th.
Photo: Benoit

Trying to undo the negative fallout over comments by his company's new CEO, Magna Entertainment founder Frank Stronach pledged $24 million for installation of synthetic racing surfaces at Santa Anita Park and Golden Gate Fields as well as much needed refurbishing of the Santa Anita barn area.

Making a rare appearance before the California Horse Racing Board during its commission meeting held at Hollywood Park June 19, Stronach said he intended to keep both tracks as racing facilities "in perpetuity."

"Santa Anita will never be in real estate play," he vowed. But Stronach also took the occasion to plead with the CHRB to look at long-term solutions to the industry's problems. He passed out copies of a booklet suggesting possibilities including a "Horse Racing Charter of Rights" and less regulation.

"I've talked with management and they've assured me that we can install (the Cushion Track) by opening of Oak Tree meeting (in late September)," Stronach told the commission at its June 19 meeting at Hollywood Park.

Ron Charles, MEC's California president, said Cushion Track installation would begin at Santa Anita on July 5 with horses vacating the grounds for Del Mar and Hollywood Park. While the backstretch is empty, work would also start on the barns, including a major attack on the rodent population.

"We're very glad to hear that," said CHRB chairman Richard Shapiro.

Charles and Golden Gate general manager Robert Hartman also told the board that Magna's Northern California track intends to install a Tapeta Footings track as soon as permitted by the City of Albany. Hartman expected to get word of permit approval later Tuesday, but the installation potentially faces appeals to the city council from two environmental groups. Installation will take three to four months, Hartman said.

"We're cautiously optimistic we'll get the new track done this year," Charles said of the Golden Gate project. "We want every opportunity to get that track installed as soon as possible."

Charles also told the board Santa Anita would supply twice-monthly updates on the barn renovation's progress.

A committee of three trainers, three horse owners and two MEC representatives would be formed immediately to review plans and come up with a concrete proposal for the Santa Anita barn renovation and other improvements. Charles and Stronach both noted the legal, historical and environmental concerns involved in the project, but said they were committed to getting it done.

That's in stark contrast to comments made in a recent letter sent by Magna Entertainment CEO Michael Neuman to the City of Arcadia and relayed to the CHRB at its meeting last month.

Neuman shocked the board with his declaration that Magna had no intent to rebuild the barns at this time after it had received assurances that it would. Arcadia also is considering MEC's major shopping and commercial development on the track grounds and the letter was intended to head off requests by opponents for more environmental review of the shopping complex because of barn area construction.

But the letter sent the wrong message to horsemen and the CHRB, Stronach said. "I did not see the language in that letter until after it was sent. MEC has always been committed to rebuilding the barns at Santa Anita.

"Why I'm here is my reputation," said Stronach. "(Neuman) has been very much reprimanded. We're committed. We can't forget the people on the backstretch.

"I always pride myself to keep my word," he added. "I can always make more money, but it's very hard to rebuild a reputation."

Stronach, who was accompanied to the meeting by former CEO Jim McAlpine, now a consultant, then launched into his campaign for a racing charter as part of a collaborative effort in the industry.

"We've spent $350 million in California with practically no return," Stronach added. "That's a concern for everyone.

"We're together in this, the racetracks and the horse owners. I'm pleading. This is very important to do something for the sake of the horse industry. We've got to do something."



Copyright © 2015 The Blood-Horse, Inc. All Rights Reserved.