Dubai Tragedy
by Ray Paulick
Date Posted: 5/1/2001 9:29:31 AM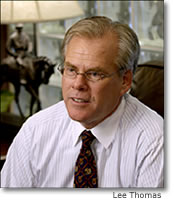 Ray Paulick
Editor in Chief
Photo: Anne M. Eberhardt

While listening to a recent radio fundraiser for Sudden Infant Death Syndrome research, I was struck by the indiscriminate manner in which this terrible disease hits. No one--no matter how rich or poor, how educated, or how caring and involved as a parent--can guarantee their infant will be immune from SIDS. The disease not only takes the lives of innocent and otherwise healthy children, but can leave deep psychological scars on parents who often question whether they could or should have done something to prevent it. I thought of SIDS and the parents of its victims when learning of the death of Sheikh Mohammed's great champion, Dubai Millennium. Like the indiscriminate disease that kills children, equine grass sickness can strike any horse in certain parts of the world (principally Scotland, northern England, Argentina, and Chile), and apparently no amount of preventive care can stop it. The disease does not discriminate by the wealth of a horse's owner or the accomplishments of the animal itself. It's a safe assumption that Dubai Millennium has always gotten the best care money can buy, from his days as a foal and racehorse, and certainly in the early stages of his stallion career at Dalham Hall Stud in Newmarket, England. But that wasn't enough to prevent his death from this insidious disease. No horse, whether a child's riding pony or a sheikh's prized Thoroughbred champion, should have to suffer the consequences of grass sickness, which kills about 9-of-10 horses that contract it. The symptoms can include sweating, trembling, an inability to swallow, and severe abdominal pain and swelling. The disease was first reported in the early 1900s and it's been researched since 1918, yet much about grass sickness remains a mystery to the scientific and veterinary community. Researchers don't know the exact cause of grass sickness, but they believe a type of toxin in grass attacks a horse's nervous system. A small minority in the horse population is susceptible to the disease and a small percentage of pastures are believed conducive to growth of the toxin. The disease can occur at any time, though peak periods are in April and May when spring grass flourishes. Colts, geldings, and fillies of all ages can suffer from grass sickness, but it mostly occurs in horses between the ages of two and seven. Dubai Millennium was five. The vast majority of horses afflicted by grass sickness have access to pastures, though it has struck a small number of stabled horses. Dubai Millennium was not allowed to run freely and graze in a paddock, in part because of the leg injury that ended his career prematurely. Sheikh Mohammed's bloodstock adviser, John Ferguson, said in a statement from Dalham Hall Stud that the son of Seeking the Gold was only occasionally hand fed small amounts of grass. He added that no horses at Dalham Hall had previously contracted the disease. Like an anguished parent who has lost a precious child to SIDS, Sheikh Mohammed undoubtedly will try to determine why this magnificent Thoroughbred was cut down so swiftly and tragically, and whether there was anything that could have been done to prevent his demise. It's very unlikely he will find an immediate answer to a question researchers have been looking into for more than 80 years. That research, which has been supported over the last few decades with funds from the Levy Board, must continue. In the meantime, the death of Dubai Millennium serves as a reminder that these animals can be as fragile as they are magnificent. We can never take their good health and welfare for granted and must continue to do everything possible to ensure their well-being.



Copyright © 2015 The Blood-Horse, Inc. All Rights Reserved.