Point Given, Congaree 'Awesome'; Maiden Drops Out
by Blood-Horse Staff
Date Posted: 4/30/2001 9:25:28 AM
Last Updated: 5/2/2001 1:40:34 PM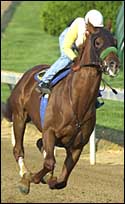 Point Given, regular rider Dana Barnes up, had his final work Monday in preparation for the Kentucky Derby.
Photo: Anne M. Eberhardt

Kentucky Derby favorite Point Given and stablemate Congaree had their last workouts before Saturday's race, each posting fast times for their five furlong efforts.Point Given was timed in :58.50 seconds, as clocked by trainer Bob Baffert. Coming onto the track without his yellow Derby saddlecloth, the imposing son of Gulch was ridden by Dana Barnes. Point Given worked in company with Saif, a 3-year-old maiden owned by the Thoroughbred Corp., whose colors will be carried by Point Given in the Derby.Baffert said he chose to go without Derby saddlecloth because of the large group of fans gathered along the rail on a crisp sunny morning that began Derby week. "I didn't want the people to start clapping," Baffert said. "Remember what happened with Silver Charm?" (Silver Charm, who won 1997 Derby, had a public workout before the Preakness, and became spooked after fans along the rail cheered for him.)Baffert clocked Point Given in fractions of :12.14 for the first eighth of a mile, :23,88 for the quarter, :35.59 for three-eighths, and :47.37 for the half-mile. Baffert caught him galloping out in 1:11.82 for six furlongs. Churchill clockers had Point Given working five-eighths in :58 1/5, with splits of :23 3/5 and :47 3/5 while galloping out in a quick 1:10 4/5. Unlike his previous works at Churchill Downs, Point Given switched form his left lead to his right lead smoothly at the top of the stretch.As Point Given blew past Saif in mid-stretch (Saif began to work out six to eighth lengths in front of the probable Derby favorite), Baffert said, "Poor old Saif." Later, Baffert said he calls Saif "the punching bag," although Thoroughbred Corp. president Richard Mulhall said he is a "fast colt."Barnes was also aboard Congaree, an Arazi colt owned by the Stonerside Stable of Robert and Janice McNair. Baffert clocked the Wood Memorial winner in :58.75 for five furlongs after fractional splits of 12.39, :24.17, :36.30, and :47.71. Congaree galloped out six furlongs in 1:11.35 and was timed in 1:25.52 for seven-eighths of a mile. According to the Churchill clockers, Congaree had fractional splits of :23 3/5 and :47 en route to a five-furlong clocking of :58 1/5 and 1:10 3/5 for three quarters of a mile.Baffert, who stood next to the McNairs during the workout, observed from a box in section 319 of the grandstand. "Pretty awesome," the two-time Derby winning trainer said of the works by his two Derby candidates. "It's hard to separate those two, huh?" Also turning his final Derby work was A P Valentine, trained by two-time Kentucky Derby winner Nick Zito. Also displaying morning speed, A P Valentine zipped five furlongs in :59. Churchill clockers timed the A. P. Indy colt in :23 1/5 for the first quarter mile and :46 for a half. With Jamie Sanders aboard, he galloped out six furlongs in 1:14.Jockey Corey Nakatani was scheduled to work A P Valentine, but was in Arkansas due to a death in his family. Nakatani had taken off his mounts on Sunday's Churchill card."We got three works in one," Zito said of the exercise. "He broke off real fast, and got the first eighth of a mile in :11 1/5. Jamie took hold of him and he kicked in last eighth. When he was galloping out, there were some horses near him and he kicked in again after he saw them. I told coach (part-owner Rick Pitino) after the Blue Gras (fifth) we were going to need two fast works in him and that's what we got. The horse is happy at Churchill Downs. Things are different here. You have to have the best horse on that day and I hope that's what we'll have, We are just grateful we have a horse here."One of the top 2-year-olds of 2000, when he won the Champagne Stakes (gr. I), A P Valentine has one win in an optional claiming race to his credit in three 2001 starts.Arctic Boy, whom trainer Tony Richey said could run in the Derby or in a conditioned allowance on the Derby card, was timed in 1:01 for five-eighths, with fractions of :26, :38, and :49 4/5. Churchill clockers had him galloping out six furlongs in 1:13 2/5.Also Monday, Churchill officials announced that Tincin, winless in seven starts, was no longer being considered for the Derby after developing a cough.The possibility that the 3-year-old old colt would run in the Derby field had proved controversial because the maiden would have faced more accomplished, seasoned foes.Owned by Cynthia Clements and Tina Larue, and trained by Steve Larue, Tincin lost his first seven starts by almost 130 lengths combined. He is based at Ellis Park in western Kentucky.



Copyright © 2015 The Blood-Horse, Inc. All Rights Reserved.