Inky's Return From the Dead
Updated: Thursday, November 14, 2002 4:41 PM
Posted: Sunday, April 29, 2001 4:22 PM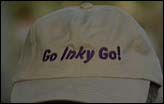 Photo: Anne Eberhardt
Cap with slogan that includes Invisible Ink's nickname.
No matter where Invisible Ink finishes in the Kentucky Derby, he will depart Louisville a winner. Just the fact that the son of Thunder Gulch, nicknamed "Inky," is here and considered a legitimate contender is enough of a miracle to those who stood by this colt and never gave up hope when all seemed hopeless. By all rights, Invisible Ink should be nothing more than a tragic memory in the hearts and minds of the people who raised him and broke him and treated him. Instead, he is at Churchill Downs, about to run in America's greatest race. And all because he refused to die, thanks to a handful of people who refused to let him die.In March of his 2-year-old year, while being trained at Bryan Rice's Woodside Ranch in Ocala, Invisible Ink developed a superficial cut on his ankle, which didn't heal as quickly as they had hoped. To stave off infection, he was treated with antibiotics and a small amount of butazolidan (Bute). But the colt began eating and drinking less and less, and eventually developed colitis. Rice decided to send him to Peterson-Smith clinic in Ocala. Something was spreading throughout the colt's body, and his condition continued to deteriorate. Eventually, he couldn't eat or drink at all, and his blood and body functions broke down. His blood protein levels dropped so low, all the fluids he was being administered flushed into his body and he developed edema. "You could barely tell where his head and body joined," owner John Fort said. "His stomach area and testicles were the size of a beach ball. From the appearance of the throat and stomach, it was as if somebody had poured battery acid down this horse's throat. It completely stripped the skin and ulcerated the horse's stomach to the point where it hurt him so badly, he couldn't swallow water. His whole insides were like raw meat. The poor thing couldn't even pick his head up. He'd accumulate all this saliva and would drink that. The vets had never seen anything like it before. One thought was that someone mistakenly had given him a massive overdose of Bute, thinking they were helping him."The colt was sent to Peterson-Smith, where he deteriorated so badly, he went from weighing 900 pounds to 500 pounds. It finally reached the point where the insurance company gave permission to have him euthanized. But Fort and veterinarian Carol Clark, with the help of Dr. Robert Copelan, wouldn't give up hope. Fort went to see the horse, and he and Dr. Clark and Dr. Copelan discussed on a conference call just what actions they could take. Fort assured Clark that they would try everything possible to save the horse."You can't imagine what this horse looked like," Fort said. "I was in Viet Nam and I've seen creatures who were dying, whether it was a bird or a dog or a person. You know when someone or something is beyond hope. I had never seen a creature sink this low. He was virtually on life-support system. We were giving him plasma at a rate of $1,000 a day. It was hour to hour, trying to save his life. This horse was dead."Clark would spend nights with Invisible Ink, coaxing him to eat. She would hold dissolvable food pellets called Purina Equine Junior in her hand, one at a time, trying to get him to take it. They also treated him with medication to help stop the acids from flushing back into his throat.Dr. Copelan finally suggested they give him buttermilk that was left out in the sun to reintroduce bacteria and help restore the colt's immune system. They found an old-fashioned farm in Ocala where the owners made their own buttermilk, and left it out in the 90-degree heat. After it became, as Fort said, "filthy and disgusting," they fed it to Invisible Ink through a tube inserted in his stomach. They combined that with stomach medication. Soon, the colt began to respond. Once they were able to stabilize his manure and got him to where he could drink and eat on his own, the horse was on the first step to recovery. By Memorial Day, Invisible Ink had turned the corner, and by mid-July he had regained the weight he had lost. Soon, he began to blossom, and eventually was sent to trainer Todd Pletcher. Now, he is a week away from running in the Kentucky Derby. Before the Blue Grass Stakes, Dr. Copelan paid a visit to Invisible Ink and told Fort, "I can't believe it. I'm treating this horse for the Blue Grass, and a year ago I was trying to save his life.""With Dr. Copelan's consultation and the inspiration of a young girl named Carol Clark and her traditional medicine, we were able to virtually bring this colt back from death," Fort said. "People frequently give up in the things they try to do, but nature never gave up here. Nature was trying to restore this horse's body back to health. Once we got out of nature's way, it was able to succeed. That this horse was able to survive is one of the most miraculous things I've ever seen."Winston Churchill once gave a famous speech to a group of youngsters at a boys school in England, in which he concluded, repeating over and over for several minutes, 'Don't ever...ever...ever...ever give up."
FREE! E-Newsletters from The Blood-Horse!...
Follow the top stories of major racing events, racing previews and results with FREE e-newsletters from bloodhorse.com. As news develops, we'll deliver updates to your inbox. Follow important events moment by moment, step by step!