Steve Haskin's Derby Report: Express Train Roars Through Churchill
Updated: Monday, April 30, 2001 12:20 PM
Posted: Saturday, April 28, 2001 1:57 PM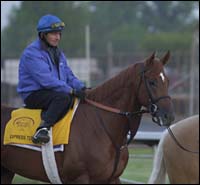 Photo: Anne Eberhardt
Express Tour, waiting to on the track at Churchill Downs, worked Saturday in preparation for the Kentucky Derby.
We've seen some great works over the past week, but this morning we saw a super work; the best move by a Derby horse so far.
Express Tour
obviously has several questions surrounding him, such as having only one start this year, having missed several days training with a bruised foot, and a less than classic pedigree. But freaks have a way of overcoming such mundane obstacles, and everyone who was around this horse at Calder last year is convinced he indeed is a freak. After watching today's work, and the past few day's gallops, we're not about to argue with them.This chestnut mountain of a horse has handled the Churchill strip as well, if not better, than any horse in the race. And the surface has changed each day. In today's work, Express Tour came out at 6:30 on a breezy, but crystal-clear morning. Assistant trainer Tom Albertrani decided to bring him out early in order for the colt to back up along the rail (jog in the opposite direction) all the way to the half-mile pole. With the gate schooling beginning at 7 a.m., horses are not permitted to back up past the gate, which is located near the quarter pole.Express Tour then broke off in an open gallop, at two-minute-lick speed, passing the seven-furlong pole, getting a good run to the six-furlong pole, where the work was to begin. The big colt broke off smoothly and relaxed beautifully under exercise rider Brian Procter. With his ears cocked, he cruised through an opening three-eighths in :38 2/5. Procter then gave him his head and nudged him along, and the colt began picking it up, getting stronger with every stride. With his ears still up and his head held high, he was pure poetry coming down the stretch. Albertrani had been teaching Procter how to get him to change leads, and it was time well spent, as Express Tour switched to his right lead very smoothly and right on cue. Turning for home, Procter threw a couple of crosses on him to keep him balanced. The colt's extension down the stretch was awesome, as those big circular strides just seemed to float over the ground. For a 17.2-hand horse to be so smooth and agile is pretty unusual.Procter moved his hands forward to keep him going past the wire, and that's just what he did. After the opening three eighths in :38 2/5, he closed his final three-eighths in :35 3/5 to complete the six furlongs in 1:14, with a final quarter in :23 3/5 and final eighth in :11 3/5. He galloped out seven furlongs in 1:28 2/5, and pulled up the mile in a very strong 1:42 2/5. Churchill's clockers actually caught him working five furlongs, but the work was intended to be six furlongs, and if anything, it was closer to a seven-furlong work.The work appeared to take very little out of the colt, who, we must add, is heavy breather. But when you hear him, it's clean-sounding, and does not sound as if he has a breathing problem. "He's always had that," Albertrani said. "It's really nothing, and doesn't affect him at all."Albertrani said this is the best he's ever seen Express Tour look and train. "I love the way he finished and galloped out today," he said. "After watching this work I'm more confident. He looks so much better now than he did when he won the UAE (United Arab Emirates) Derby. I've never seen him look this good. His coat is slick and he's carrying more muscle."Asked if he were concerned about the colt having had only one start, Albertrani said, "After the way he came off a five and a half-month layoff to beat Street Cry in the UAE Derby in his first start of the year, I'm really not too worried about having only one race."So, what do you make of this colt? Is he a freak, as they say he is? There's no way of knowing until he proves it on Derby Day. He'll have to be one to win this year's Derby in particular. But we'll state emphatically that based just on training and looks, no horse will be going into the Derby in better condition or off better works. If Bob Baffert had any fear of this horse before today, he'll have even more if he ever watches this work after returning from Lone Star Park tomorrow. Whether Express Tour has the experience and the pedigree to get a mile and quarter next Saturday we have no idea. But we feel with the brilliance and courage he's already shown in his races, combined with what we've seen so far in the mornings, this colt will have a major impact on the Derby.
Disgrace at the Downs
So much for the beauty. Now for the beast, or should we say beasts. For the past week we've ignored the existence of the maiden
Tincin
and his connections. But we do have to report on all the news, as distasteful as it may be. And Tincin did work today, looking very much like the bad maiden that he is. We have nothing against the horse. He is what he is. Unfortunately, so are his trainer and owner, who have stuck their tongues out at Churchill Downs and the Kentucky Derby. Churchill's only response is to shrug their shoulders. This is not about the American dream, as some may feel. It is about the American nightmare, where freedom can be abused in a reckless manner by reckless people. For those who do not know the caliber of horse we're dealing with, in seven career starts, he's been beaten a total of 129 lengths, or 18 lengths a race. He's been ridden by six different jockeys, and, so far, no one wants to ride this four-legged time bomb in the Derby. The sad part was watching the large crowd that gathered by the gap this morning to get a glimpse of the horse before his half-mile work in :48 4/5.
Congaree
went to the track right behind him, but no one noticed. We only hope there are no tragic repercussions from this farce. It is a shame he is being allowed to run, and we trust Churchill Downs will now make some provisions in the future to foil any attempts to lower the lofty standards of the Kentucky Derby. This folly is comparable to someone being permitted to drive a Jeep in the Indy 500, only in this case, the prospects of disaster are more prevalent. Racing has enough problems to have to answer for this unfortunate episode. This will be the last mention of Tincin in this space, unless of course someone shanghais him and puts him on a slow boat to China until the Derby is over.
Other news
--
Dollar Bill
continues to impress us with his looks and in everything he does. He had an easy gallop this morning in preparation for Sunday's work, and as usual, his head was down and straight, with very little movement. This is a horse who is doing absolutely super, and we expect him to be coming on strong at the end. We're not sure yet whether a mile and an eighth is his best distance, but we don't seen any problem getting the 10 furlongs. We'll go more into detail on how good he looks in tomorrow's report.-- Trainer Joe Orseno was looking for a pair of miles in 2:20 from
Thunder Blitz
in his gallop this morning, but the galloping machine went in 2:08 and 2:06, with exercise rider Keith Ricks standing straight up in the irons trying to getting him slowed down. The son of Holy Bull, one of the few slightly built colts in the Derby, works five furlongs tomorrow.--
Percy Hope
was out for an easy gallop this morning. Trainer Tony Reinstedler said they won't make a decision on the Derby until the colt works on Tuesday.-- Assistant trainer Bob Lewis said
Monarchos
came out of yesterday's work in great shape.
A P Valentine
schooled at the gate this morning and was the perfect gentleman. Likely favorite
Point Given
galloped and seemed to be handling the track better today than he did yesterday.
Jamaican Rum
had an aggressive gallop and was down into the bit. We want to see him work again before deciding whether he's liking this track or not.
Fifty Stars
is a beautiful mover in his gallops, and has a classic arch to his neck.
FREE! E-Newsletters from The Blood-Horse!...
Follow the top stories of major racing events, racing previews and results with FREE e-newsletters from bloodhorse.com. As news develops, we'll deliver updates to your inbox. Follow important events moment by moment, step by step!