Lawyer Ron Focus of Court Battle Between Owners
by Ryan Conley
Date Posted: 4/20/2007 6:43:09 PM
Last Updated: 4/23/2007 3:30:58 PM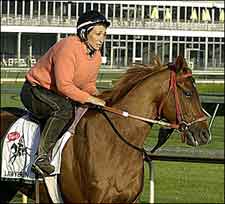 Lawyer Ron pointing toward Metropolitan at Belmont in late May while owners clash in Kentucky courtroom.
Photo: Anne M. Eberhardt

Partners that own multiple grade II-winner Lawyer Ron are fighting over the career of the 4-year-old colt and are utilizing a Kentucky courthouse to wage their battles.

The estate of breeder-owner James T. Hines Jr., -- which on the eve of last year's Kentucky Derby Presented by Yum! Brands (gr. I) sold a headline-making 80% interest in Lawyer Ron to an affiliate company of Audrey Haisfield's Stonewall Farm Stallions -- has the legal right to control the racing career of the $1.8 million-earner, according to a November ruling by a Fayette County (Ky.) circuit court judge.

But the judge has yet to rule on part of a counter-suit by Stonewall, which claims the estate's executor, attorney Ronald J. Bamberger (for whom Lawyer Ron is named), breached fiduciary duties owed to the partnership by continuing to race the colt in 2007.

The partners are also fighting over the payment of racing and training expenses. Bamberger claims he is owed more than $50,000 from Haisfield, who, along with other entities she manages, is contending with unrelated lawsuits and liens that level charges of about $800,000 in unpaid bills to a variety of businesses, as well as about $60,000 in ad valorem taxes due Woodford County (Ky.), where Stonewall Farm Stallions is located.

"I am thoroughly disgusted with Stonewall and the deal I made with them," said Bamberger in an April 19 telephone interview.

"Stonewall has people working for it that I know and trust, and I know are credible people," he continued, specifically noting general manager Bert Welker, director of stallion operations Ken Wilkins, and stallion seasons saleswoman Suzie Oldham. "The people that own Stonewall, I don't believe fall into that category."

Stonewall, which houses about a dozen stallions at its palatial Versailles, Ky. location, claims in legal filings it has contributed sufficient funds to Lawyer Ron's racing career. Neither Haisfield nor her husband, Richard Haisfield, returned a call seeking comment, but their counter-suit claims Bamberger's actions are a "conflict of interest," are "self-serving," and have a "complete disregard for the ownership interest of (Stonewall Farm Stallions)."

"What benefits the seller may not benefit the members," said attorney John T. Hamilton, part of the team representing the Haisfields in their legal battles. "The view in the lawsuit is that the Hines estate owes some duties to its members."

Bamberger, executor of the estate left to the three surviving children of Hines, who died last February, said he didn't decide until December to keep Lawyer Ron in training.

"The lawsuit was going on, but that wasn't the determining factor," he said. "The determining factor was how to maximize the value of the horse as far as all of us were concerned.

"At that time, he had not won a grade-I race, and the only two grade-I races he ran in he lost poorly," he continued, noting a 12th-place finish in the Derby and a ninth-place finish in the 2006 Breeders' Cup Classic Powered by Dodge (gr. I) at Churchill Downs.

Bamberger said he consulted a group of advisors before making the decision, including trainer Todd Pletcher, but not the Haisfields.

"The decision is mine under the terms of the agreement," he said. "We sold (Lawyer Ron) for what I thought was a very modest price, and part of the purchase price was that we picked up some substantial benefits in his racing career. After he retires, we only get 20% of his income from breeding. Prior to the time of retirement, we get substantial kickers and bonuses."

According to pleadings by Stonewall, Lawyer Ron's stud career could produce an estimated $25 million.

According to a copy of the purchase agreement included in the case file, the deal included an up-front payment of $3.52 million, and bonuses ranging from $750,000 to $2 million for specific victories or awards. To date, Lawyer Ron has not earned the estate any of the available bonuses.

The partners first started bickering last fall over the following language in the purchase agreement describing when ownership control would shift from the estate to Stonewall: "… in the event the colt shall fail to finish first or second in two consecutive races following the closing, buyer shall thereafter be vested with the right to direct the racing career of the colt and to determine when the colt shall be retired from racing."

Bamberger contended the clause meant that Lawyer Ron had to only finish first or second in either one of the two races for the estate to maintain control, while Stonewall claimed the colt had to win or place in both the Derby and his next race, presumably the Preakness Stakes (gr. I).

Judge Thomas L. Clark agreed with the estate's claims in an order written Nov. 7 – three days after the Breeders' Cup – stating, "…the plaintiff shall have the sole and exclusive right to manage and direct the racing career of Lawyer Ron, including when Lawyer Ron shall be retired from racing. And the defendant shall not interfere with the same, until Lawyer Ron finishes worse than second place in two consecutive races."

"It was obviously a different ruling than we wanted," said Hamilton.

Lawyer Ron had surgery to remove bone chips shortly after his out-of-the money finish in the Derby, but returned in August to win the inaugural St. Louis Derby at Fairmount Park. He then finished second in the Super Derby (gr. II), ninth in the Classic, first in a February allowance race at Gulfstream Park, and first in the April 7 Oaklawn Handicap (gr. II).

Stonewall Farms is also named a defendant in a lawsuit filed by horseman Greg Norman over an alleged failed deal involving

The Daddy

. In a complaint filed in February in Fayette County circuit court, Norman claims Stonewall backed out of a contract to purchase the son of

Valid Expectations

for $600,000 and 10 lifetime breeding rights, and that he was then forced to sell The Daddy for $400,000 and four lifetime breeding rights.

Norman is seeking damages that include the $200,000 difference in sale price, plus the value of six lifetime breeding rights "as determined by the evidence." As of April 19, Stonewall has not filed an answer to the complaint.

Hamilton said he is not aware of any financial difficulties plaguing Stonewall Farm Stallions, which is one of more than 80 corporate entities the Haisfield family has registered with the state of Kentucky, most listing Audrey Haisfield as manager.

"My knowledge is that the farm is doing fine," said Hamilton.

Haisfield's ownership interest in Lawyer Ron is listed as collateral on a loan secured from J. P. Morgan Chase Bank, according to a Uniform Commercial Code filing with the state of Kentucky. The loan was extended to a limited liability company called Our Legal Team LLC, which was the original managing entity of Haisfield's interest in Lawyer Ron. Last August, the name of the LLC was changed to Stonewall Farm Stallions Racing Division I, according to online state records.

Bamberger said Lawyer Ron is being pointed towards the May 28 Metropolitan Handicap (gr. I) at Belmont Park, adding there are tentative long-range plans to run the colt in the new mile dirt race being contested for the first time in this year's Breeders' Cup World Championships at Monmouth Park.

Part of the Kentucky farm property owned by Hines is up for sale, carrying a list price of $1.35 million. A dispersal of about 90 Hines-owned horses was completed last year, Bamberger said, adding that Lawyer Ron is the lone equine interest left in the estate.



Copyright © 2015 The Blood-Horse, Inc. All Rights Reserved.