Steve Haskin's Derby Report: Point Given, Congaree Pass First Test
Updated: Wednesday, April 25, 2001 3:37 PM
Posted: Tuesday, April 24, 2001 2:41 PM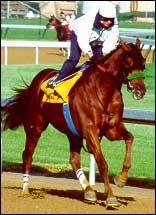 Photo: Anne M. Eberhardt
Point Given, under regular exercise rider Dana Barnes, worked Tuesday morning at Churchill Downs in preparation for the Kentucky Derby.
If opposing trainers were looking for any holes in the Baffert Brigade, they sure didn't find them this morning, as
Point Given
and
Congaree
both turned in brilliant works over a deep track that trainer Bob Baffert described as demanding.Baffert, always nervous before big works, was looking forward to getting these out of the way. Heavy rains at around 8 p.m. the night before didn't help soothe his nerves any, but morning brought bright blue skies and a drop in the temperature from the previous day. Baffert arrived in the grandstand during the renovation break and surveyed the scene, then got on his two-way radio with exercise rider Dana Barnes, who was already aboard Point Given. The big chestnut's assigned workmate couldn't make it after suffering a slight injury, and Indy Lead, a one-time Derby hopeful, was chosen to replace him. Point Given pranced by the stands going the wrong way as if he knew all eyes and cameras were on him. "Here comes the big red train," Baffert said.Indy Lead broke off at the five-furlong pole about three lengths in front, but by the time he passed the three-eighths pole in :24 4/5, the big train was already roaring past him. Baffert was hoping Indy Lead would put up more of a fight and push Point Given after being challenged. "Next time, we'll have to break him off eight lengths in front," he said. Point Given charged for home, but lost his concentration momentarily, cocking his head toward the grandstand and remaining on his left lead. Barnes snapped her wrists several times and the big chestnut quickly leveled off and really turned it on in the final furlong. He was striding out beautifully as he hit the wire in :59 3/5. Baffert actually caught him a few ticks slower, in 1:00 1/5, galloping out six furlongs in 1:13, and pulling up seven panels in 1:28. Despite his little antics at the head of the stretch, Point Given still closed his last quarter in :23 3/5. "That was the ideal track to work over," he said. "It's deep as hell. That 1:28 pulling up was pretty good on this track."Barnes told Baffert that even with the deep track, she still had a ton of horse. "That s.o.b. never gets tired," Baffert said.Congaree came out next for his four-furlong work. Having run 10 days earlier, he didn't need as much. The big, strapping son of Arazi is a real pro in everything he does, and this work was flawless, with the exception of a slight bobble in midstretch when he hit a bad spot on the track. He rattled off his eighths in :12 1/5, :12, :11 4/5, and :11 4/5 to complete the half-mile in :47 4/5, then galloped out so strongly, in 1:00 4/5, the clockers gave him a five-furlong work, although Baffert had them change it. Throughout the work, Barnes sat motionless, as Congaree switched leads perfectly and ran straight as an arrow down the stretch. "He likes this track, doesn't he?" Baffert said, fully knowing the answer. "This is an awesome horse."So, Baffert's powerful duo have passed their first test with flying colors, and will do it all again next Monday. In the past, Baffert has always given his Santa Anita Derby horses three works at Churchill Downs, but with Point Given he has decided to go with just two works. "He's such a big horse, he doesn't need another work," he said. "This was almost like a six-furlong work anyway, and I had him go out seven furlongs. I've never come in here this strong, and because of that, I feel doing too much will hurt me more than not doing enough."Despite the abundance of speed in the Derby, Baffert has a great deal of respect for several of the horses who will be on or near the lead. He said he was very impressed with
Express Tour
in his work yesterday, and likes the way
Millennium Wind
has been moving over the track in his gallops. The impression here is that Millennium Wind is the horse he fears, although he did say the same thing about
Balto Star
last week. But watching Millennium Wind galloping, he believes the Blue Grass winner's cracked heels will not hamper him at all.But Millennium Wind's scheduled Wednesday work has now been pushed back to Friday or possibly Saturday. The allergic fungus is quite noticeable, and there still is some slight bleeding. This morning, he didn't seem to be showing any effects from it, as he galloped a solid mile and five-eighths. Trainer Dave Hofmans is scheduled to arrive on Wednesday.
Fifty Stars and Jamaican Rum work
Although
Fifty Stars'
five-furlong work in 1:02 1/5 did not compare time-wise with Baffert's pair, it was a very smooth drill, by a horse who possesses little speed. Equipped with a figure-8 bridle and front bandages, the Louisiana Derby winner was under no urging at all, as he cruised around there with his tongue flapping out the side of his mouth, while alternately pinning and cocking his ears. Through the stretch, he had good extension and finished strongly. After the work, he was a handful as he was being led out to be washed down.
Jamaican Rum
, however, was anything but smooth, as he went off slowly, then appeared to lose his footing, and was very awkward turning for home. As he did in the Arkansas Derby, he remained on his left lead until inside the three-sixteenths pole. His final time of 1:03 3/5 for the five furlongs was indicative of the way he was moving. We don't know if he didn't like the surface or simply was unfamiliar with it, and will move over it better in his next work. Trainer Jim Cassidy said all he's looking for in the Derby is a good stiff pace. Jamaican Rum is a very playful colt and can be tough to handle at times. On Monday afternoon, he spent his leisure time outdoors grazing and rearing. When Thunder Blitz, grazing nearby, also began acting up, both colts were brought in.
Other news
--
Monarchos
had a long, strong gallop after the break, going around twice, and was moving much better through the stretch the second time. Trainer John Ward, who was not at Churchill on Tuesday, said the son of Maria's Mon will work either Thursday or Friday.--
Songandaprayer
certainly is one of the most eye-catching horses in the race, with his two white eyes and big, wide blaze. He's a tall, powerful colt who obviously has a ton of talent. Trainer John Dowd sid he's scheduled to work five furlongs on Thursday.--
A P Valentine
walked the shed this morning after his sharp five-furlong work on Monday. Other workers on Mondays, Express Tour, Dollar Bill, and Gift of the Eagle, also walked the shed. Frankie Dettori still has not made a decision if he will ride Express Tour in the Derby or remain in England for the Two Thousand Guineas.-- There are no scheduled works for Wednesday. Songandaprayer is definite for Thursday, with
Balto Star
and
Invisible Ink
scheduled for Friday.
FREE! E-Newsletters from The Blood-Horse!...
Follow the top stories of major racing events, racing previews and results with FREE e-newsletters from bloodhorse.com. As news develops, we'll deliver updates to your inbox. Follow important events moment by moment, step by step!