Bay Meadows' Days Numbered After CHRB Vote
by Jack Shinar
Date Posted: 3/23/2007 7:45:14 AM
Last Updated: 3/28/2007 10:54:46 AM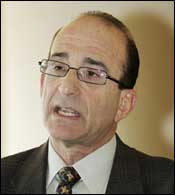 California Horse Racing Board chairman Richard Shapiro
Photo: Tim Sharp

Faced with eventual closure of Bay Meadows, the California Horse Racing Board doomed the 73-year-old race course rather than grant a two-year waiver of its edict mandating that all major Thoroughbred tracks in the state install synthetic surfaces by the end of the year.

The decision came via a 4-2 vote against the extension taken at the San Mateo track during the CHRB's regular meeting on March 22. It left Jack Liebau, president of the Bay Meadows Racing Association, stunned.

"For racing in California, this is a day of infamy," said Liebau moments after the vote was taken. "Racing in Northern California will never exist as it has. It is a disaster. Horses, owners and trainers are going to be leaving in droves."

Citing safety concerns, the CHRB mandated last year that Thoroughbred tracks racing for four consecutive weeks or more would not be allowed to seek future dates without installing a synthetic surface by the end of 2007. Track owner Bay Meadows Land Company, which plans to redevelop the remaining racetrack property when economic conditions are more favorable, would not make the estimated $8 million investment in the struggling track, Liebau told the board. He also was unable to assure the board that the track would stay open for the full two years.

"They made their decision. So be it," Liebau said as he turned and walked out of the meeting room.

Unless there is a change in direction by either BMLC or the board, the final meeting for Bay Meadows would run from Aug. 22 to Nov. 4.

Board chairman Richard Shapiro and commissioners Jerry Moss, Marie Moretti and John Amerman voted against granting the waiver, while vice chairman John Harris and John Andreini were in favor.

"I think most of us understand what is at stake," Shapiro said, while citing the historic importance of the the track to California racing. "None of us here want to see Bay Meadows go."

He called on Magna Entertainment-owned Golden Gate Fields in nearby Albany as well as the state's racing fairs to come to the CHRB with details of a racing schedule plan they have been discussing for the past year. He also noted that the proposed Magna track at Dixon, near Sacramento, takes on added importance.

According to Shapiro, Bay Meadows has experienced 12 equine fatalities and three career-ending injuries in its first 23 days of racing at the current meet (which ends April 22). "This is about protecting our horses and our riders," he said.

Moss said that "prioritizing the safety of horses" was the board's goal in moving to synthetic racing surfaces "and this waiver flies in the face of that."

"This is a good time for Northern California racing," he added. "I'm excited about the future of racing here."

Amerman agreed with Moss, saying the move to synthetic was made for the betterment of racing's future. "What I've heard is that (Bay Meadows) won't go along with that so I have to vote against this waiver."

Moretti took an historic slant, comparing the situation to the auto industry's fight against seat belt requirements or tobacco company resistance to smoking restrictions. She noted that Bay Meadows could still apply for up to four weeks of racing dates. "But in good conscience that's as far as I'm prepared to go," she said.

Harris argued for the preservation of racing at the storied track, noting that granting the waiver didn't guarantee race dates, just the right to apply for them. He suggested that Bay Meadows could take steps to make the track safer short of replacing it. He said it is a "tragedy" to allow the track to close.

"The industry is better off with Bay Meadows than it is without Bay Meadows," he said.

Bernie Thurman, vice president of operations for the track, noted that Bay Meadows handled $160 million in wagers in the past year, accounting for 45% of Northern California's on-track handle and nearly 40% of its simulcast total. Liebau called Bay Meadows "the backbone of Northern California racing."

Numerous trainers attended the meeting and several spoke on behalf of the extension, citing the uncertainty of stabling, training and racing facilities without Bay Meadows.

However, Ed Halpern, executive director of the California Thoroughbred Trainers, spoke in favor of denying the waiver, as did Tom Bachman, representing the Thoroughbred Owners of California in the northern region.

Rick Pickering, representing Alameda County Fair, indicated that his facility and other racing fairs in the region could take up the slack.

Bay Meadows opened on Nov. 3, 1934, under the leadership of Bill Kyne. From the many appearances by the legendary Seabiscuit to Russell Baze's recent assault on Laffit Pincay Jr.'s victories record, highlights have been many for the historic facility located on the San Francisco peninsula.

Hollywood Park, also owned by the Bay Meadows Land Company, is the only major track in the state to convert its main dirt track to an artificial one, installing Cushion Track last year. Del Mar, in the process of installation, is expected to have Polytrack in place for its summer meeting. Golden Gate Fields and Santa Anita Park have plans to convert their tracks this summer.



Copyright © 2015 The Blood-Horse, Inc. All Rights Reserved.