Great Hunter's Ownership Clouded by Legal Issues
Date Posted: 3/16/2007 4:56:16 PM
Last Updated: 3/22/2007 2:07:26 PM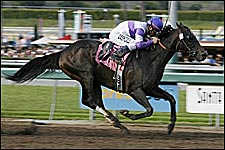 Great Hunter takes the Robert B. Lewis Stakes
Photo: AP/Mark Avery

By Ryan Conley and Jack Shinar
Great Hunter is a hot property on this year's Triple Crown trail, but who has the right to claim the grade I winner and prospect for the Kentucky Derby Presented by Yum! Brands (gr. I) as legal property looms as a big question.

The colt is connected to a lawsuit that Fifth Third Bank has filed against his former owner, Ilona Whetstone, and others over the alleged default of $3 million in loans secured in 2005 from the Kentucky financial institution. The civil lawsuit, filed in Jessamine County, Ky., Circuit Court Jan. 29, alleges several horses and other Thoroughbred interests owned by Whetstone was part of the collateral for the loans.

The security agreement signed by Whetstone and her husband, L. Eric Whetstone, also lists related equine collateral as "all progeny and offspring of said horses," and "any income or proceeds attributable to said horses," along with stallion shares and seasons, among other interests.

Great Hunter was purchased in the names of L. Eric Whetstone and Ilona Whetstone for $30,000 at the 2005 Keeneland September yearling sale, according to the sale company's online records. He raced twice in Ilona Whetstone's name before being sold privately to J. Paul Reddam for $550,000 last June after breaking his maiden at Lone Star Park.

The lawsuit claims equine collateral secured on the loans included, in part, all horses the Whetstones owned as of Dec. 2, 2005, which falls within the time period Ilona Whetstone owned Great Hunter.

For Reddam, Great Hunter won the Lane's End Breeders' Futurity (gr. I) and Robert B. Lewis Stakes (gr. II) with $730,000 in earnings since he acquired him. The California-based owner recently received a letter from Fifth Third Bank informing him a lien existed on the colt. There was no condition on the sale as a loan asset, Reddam said, nor was he aware that the lien existed until he received the letter.

"I got this letter saying there was a blanket lien on all of Mr. Whetstone's assets," Reddam said. "I haven't actually seen any of these documents. I worried about it for about five minutes and then I turned it over to my attorney (Dan Baren). They are trying to work out a satisfactory arrangement."

Other than its court filings, Fifth Third Bank has declined comment on the case. "Our policy is not to discuss matters that involve customers' accounts," said Debra DeCourcy, director of corporate communications at Fifth Third Bank's corporate headquarters in Cincinnati, Ohio. "I can neither confirm nor deny any details."

Taft McKinstry, a Lexington attorney representing the Whetstones, claims Great Hunter was not part of the inventory used for collateral, and that Ilona Whetstone contends she was allowed to sell any of the horses "in the ordinary course of business," per the loan agreement.

"We are surprised, in fact shocked, that the bank sent this letter to the owner of Great Hunter without any notice to the Whetstones," McKinstry said. "They, and through their counsel, are cooperating with Fifth Third Bank. The Whetstones anticipate the issues raised in the complaint will be resolved satisfactorily in the near future."

McKinstry claims legal possession of several of Ilona Whetstone's horses have been transferred to Fifth Third Bank, including about 15 housed at Chris Baccari's Seclusive Farm near Lexington.

Baccari said he is a bloodstock agent who at one time purchased yearlings for the Whetstones, including Great Hunter. The colt, a son of Aptitude—Zenith, by Roy, was broken and trained at Seclusive Farm before being shipped to trainer Joe Petalino at Lone Star Park, Baccari said.

Among the horses listed on the transfer of possession orders is Mr. Pursuit, who won the $273,000 Oklahoma Derby last October at Remington Park and has earned $362,395. The 4-year-old colt last raced March 9 in the $150,000 Razorback Breeders' Cup Handicap (gr. III) at Oaklawn Park, finishing last in a field of eight while racing in Ilona Whetstone's colors.

Reddam, who made his fortune as owner of Di-Tech.com and now owns the Cash Call short-term lending company, said he thought it was unusual for a bank to accept a horse as loan collateral. He feels Fifth Third Bank has no legal claim on Great Hunter, who is being pointed to the April 14 Toyota Blue Grass Stakes (gr. I) at Keeneland.

"If something happens to the horse or he drops dead, which happens, then there is no value," Reddam said. "I'd like to see the underwriting, because some of it just isn't adding up."



Copyright © 2015 The Blood-Horse, Inc. All Rights Reserved.