Slew Back with a Bang
by Lenny Shulman
Date Posted: 4/19/2001 3:17:53 PM
Last Updated: 4/23/2001 8:44:46 AM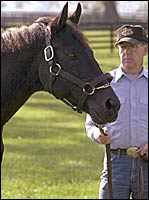 Seattle Slew, with owner Mickey Taylor last September.
Photo: AP/Rob Carr

Seattle Slew, back in the breeding shed after major surgery last year, has gotten 19 mares in foal from 22 who were sent to him as of April 19. Results are pending on five further mares. "He is doing unbelievably well," said Mickey Taylor, who owns and is the syndicate manager of the son of Bold Reasoning. "He is a very happy horse and pleased to be back at work. He's feeling better all the time. In the past month or two he's gotten a lot stronger, and neurologically he's gotten better as well."Seattle Slew, 27, was taken out of stallion service a year ago after he was found to be suffering from a compression of his spinal cord caused by arthritic changes in his vertebrae. In surgery at Lexington's Rood & Riddle Equine Hospital, a hole was drilled between two vertebrae and a titanium basket inserted to reduce pressure on the bone. His recovery since has been steady, but it was unknown whether the great sire would be able to breed again. Slew, who stands at Three Chimneys Farm near Midway, has now answered that question adamantly. He has a book of some 47 mares scheduled for 2001. Seattle Slew has sired such horses as A.P. Indy, Slew o' Gold, Swale, Capote, Landaluce, Surfside, General Meeting, Honest Lady, Slew City Slew, Lakeway, and Event of the Year.



Copyright © 2015 The Blood-Horse, Inc. All Rights Reserved.