Point Given Arrives at Churchill Downs; Next Work Tuesday
by Blood-Horse Staff
Date Posted: 4/18/2001 1:59:20 PM
Last Updated: 4/19/2001 3:08:52 PM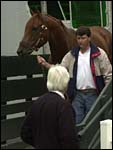 Probable Kentucky Derby favorite Point Given, with assistant trainer Jimmy Barnes, after arriving at Churchill Downs on Wednesday.
Photo: AP/Ed Reinke

Kentucky Derby favorite Point Given arrived in Louisville late Wednesday morning and was bedded down in his stall in Bob Baffert's Churchill Downs barn by 12:30 p.m., according to Baffert assistant Jim Barnes, who traveled with the son of Thunder Gulch from California. Ten other Baffert horses, plus a stable pony, accompanied Point Given on the trip."Everything went smooth, it was a wonderful flight," Barnes said. "Point Given has had some experience and travels very nice."The racing press turned out in force at Churchill, following the Santa Anita Derby winner's every move, but Barnes said he was happy with the way the sometimes hard-to-handle colt acted. "He was bellowing and hollering through the stable area when he saw all the press," Barnes said. "We put him in his stall and brought him back out to clean him while the press watched, and he was a good actor the whole time."Point Given walked at Santa Anita Wednesday morning before boarding the flight for Kentucky. He'll gallop between a mile and a mile and a quarter on Thursday, then begin a series of longer gallops each morning, Barnes said. "With this horse, you want to get out there and get your business taken care of," he added. "It's hard to take much out of him with a gallop. When he won the Santa Anita Derby he wasn't even breathing hard when he came back to the winner's circle."Barnes admits the big, strapping colt can be a handful. Point Given got away from his handlers during a gallop at Santa Anita last week. "He's always been a tough colt to handle," Barnes admitted.Exercise rider Pepe Aragon will be up on the colt in his gallops, though Barnes' wife, Dana, will fly in from California to work Point Given next Tuesday, April 24, and on the following Monday, April 30. "You never know if Bob will change his mind," Barnes said of Baffert, "but we'll probably work him six furlongs in the first work and five furlongs the next time."Point Given worked a half-mile under Dana Barnes at Santa Anita on Tuesday, going a half-mile in :46.80.



Copyright © 2015 The Blood-Horse, Inc. All Rights Reserved.