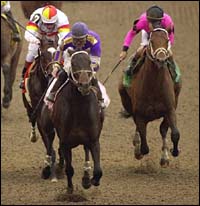 McPeek said. "I'm going to work him two more times -- long
breezes. If he works well, comes out of them good, and keeps staying strong like I've seen, then we'll go (to the Derby). But if he takes a step backward for whatever reason, he doesn't eat up or there's a soundness question, then we won't go."McPeek said Lonnie Meche will ride the colt if Saint Damien runs in the Derby.McPeek said Gift Of The Eagle's work went according to plan. "I told Marlon just to go easy with him, just let him do what he felt like doing out there," he said. "He said he could have gone much faster, but he just sat on him."Gift Of The Eagle will run in Churchill's Derby Trial (gr. III) at on April 28, where a big effort could earn him a spot in the Derby starting gate. Gift Of the Eagle, who was third in the Kentucky Jockey Club
(gr. II) at Churchill Downs and second in the Laurel Futurity (gr. III) as a juvenile, has new owners. He was purchased last Friday from Raymond Cottrell, Sr. by Lance Bell and George Krikorian. Bell, who lives in Saratoga Springs, NY, bred the colt. The purchase price was not disclosed.Street Cry Works Wednesday
Churchill Downs reported that Godolphin Racing's Street Cry, third in the Breeders' Cup Juvenile winner of the UAE Two Thousand Guineas, is scheduled to work Wednesday, but stablemate Express Tour will spend another day in the barn with a sore foot.Eric Coatrieux, the assistant trainer who is overseeing the Godolphin Derby duo until trainer Saeed bin Suroor arrives at Churchill Downs, said UAE Derby winner Express Tour continues to be plagued by an apparent bruise in his left front foot. Coatrieux said the colt is responding to treatment, which includes soaking the foot in epsom salt three times a day."It looks like it's improving a little bit every day," Coatrieux said. "It's not as bad as it was."Coatrieux said the injury has not required the removal of the shoe from the injured foot. The problem was discovered after Express Tour was exercised Saturday.Coatrieux hopes the colt can return to the track on Thursday. "We've got some time," he said. "I'd rather have it happen now than just on top of the race."Led by Illinois Derby winner Distilled, a probable field of nine will contest Saturday's Coolmore Lexington Stakes (gr. II) at Keeneland. Distilled is owned by a Dogwood Stable partnership consisting of Paul Oreffice of Ft. Lauderdale, Fla.; Cary Findlay of Longboat Key, Fla.; and Guy Paschal of Dewees Island, SC.Other possible starters for the Coolmore are Lafayette Stakes (gr. III) winner Griffinite, group III winner Turnverry Isle, Private Terms Stakes winner Bay Eagle, 2000 Maryland Juvenile Championship Stakes winner Global Gait Camden Park, Gotham Stakes runner-up Mr. John, Clutch Player, and Gift of the Eagle.