Point Given's Role as Derby Favorite Strengthened
by Dan Liebman
Date Posted: 4/16/2001 3:43:04 PM
Last Updated: 4/23/2001 3:58:03 PM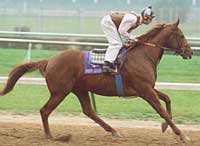 Support grows for Point Given as Kentucky Derby favorite.


Point Given didn't even run over the weekend, but English bookmaking firm William Hill dropped its Kentucky Derby (gr. I) price anyway, from 7-4 to 3-2.There certainly is no disputing Santa Anita Derby (gr. I) winner Point Given is a deserved favorite for the May 5 Derby. Mike Battaglia, who has made Churchill Downs' Derby morning line since 1975, said if he had to make the line today, he would make Point Given 2-1."So many big, long-striding colts have to have everything their own way, but he (Point Given) has shown me he can do anything," Battaglia said. "He can come from anywhere."Battaglia said he would make Wood Memorial (gr. II) winner Congaree the second choice, at 6-1, the same price William Hill dropped him to after Saturday's race. He was previously 12-1 with William Hill.Battaglia said he would either make Blue Grass Stakes (gr. I) winner Millenium Wind and Arkansas Derby (gr. II) winner Balto Star both 8-1, or possibly one 8-1 and one 10-1.William Hill dropped Balto Star from 12-1 to 13-2, and Millenium Wind from 16-1 to 8-1.Battaglia said Monarchos and Dollar Bill would come next, both low double digit odds.William Hill, of course, also raised the prices on some horses after the weekend's prep races. Most notably, A P Valentine and Dollar Bill, from 10-1 to 33-1.William Hill's line on April 16:
3-2 Point Given
6-1 Congaree
13-2 Balto Star
7-1 Millenium Wind
8-1 Monarchos
10-1 Express Tour
10-1 Street Cry
14-1 Percy Hope
16-1 Thunder Blitz
20-1 Burning Roma
25-1 Fifty Stars
33-1 AP Valentine
33-1 Distilled
33-1 Dollar Bill
33-1 Ommadon
33-1 Songandaprayer
33-1 Takin It Deep
40-1 Crafty Ice
40-1 Invisible Ink
50-1 I Love Silver
50-1 Jamaican Rum
66-1 Early Flyer
66-1 Palmeiro
66-1 Startac
100-1 Dream Run
100-1 Hoovergetthekeys
100-1 Proud Man



Copyright © 2015 The Blood-Horse, Inc. All Rights Reserved.