Congaree Continues to Fight, From Birth to the Wood
by Steve Haskin
Date Posted: 4/14/2001 5:35:08 PM
Last Updated: 4/16/2001 4:15:35 PM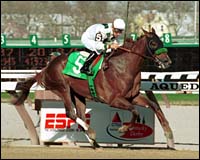 Congaree, winning Saturday's Wood Memorial.
Photo: AP/New York Racing Association

Go ahead, tell Congaree he doesn't have the experience or seasoning to win the Kentucky Derby (gr. I). He'll laugh in your face, just as he did to those who questioned his ability to defeat the mighty Monarchos in the April 17 Wood Memorial (gr. II) off only three career starts.We're talking about a colt who literally was born a fighter, and who has been defying the odds ever since. When you have to fight to get born, there isn't a challenge life has to offer that you back away from. To Congaree, the $750,000 Wood was just another race at just another track against just another horse. And the result was just another of his resounding victories.There is a reason Congaree is fearless, and why he strutted into the Aqueduct paddock, 3,000 miles from home, as if he owned the joint. When it was time for him to enter the world at about 2 a.m. on Apr. 20, 1998, he already weighed a massive 152 pounds (about 30 pounds heavier than the average foal). The scene trying to get him out of his mare, Mari's Sheba, evokes images of a Honeymooners episode in which the hefty Ralph Kramden gets stuck between two pipes, described by his wife Alice as the equivalent of two pounds of bologna in a one-pound bag.It was such an ordeal getting this hulking foal out, Bobby Spalding, farm manager of owners Robert and Janice McNair's Stonerside Farm in Paris, Ky., and four other farm employees had to drag him and Mari's Sheba around the stall by the nylon straps that were fastened to the foal's ankles with chains and hooks."It wasn't a pretty sight," Spalding said. "He was so huge-chested and had an extremely large girth. We finally got his front shoulders free, but he became hip-locked, and that's when we had to drag him around the stall trying to get him out. When we did, the mare was pretty sore behind."But that was nothing compared to the foal, who had suffered two broken ribs and three cracked ribs. He was bandaged up and confined to a stall for 45 days, where he was pampered and spoiled by the help, being fed peppermints by hand. "He was handled so much, he became a very people-oriented horse," McNair said. "He got to trust people, and that's why he's so coachable and acts like such a professional."When he was being weaned later that year, he had to overcome another obstacle after being stricken with pneumonia. By the time he was sent to J.B. and Kevin McKathan in Ocala to be broken the following year, he was already hardened to the ways of the world. He learned fast, and soon was tearing holes in the warm Florida breeze. J.B. McKathan quickly saw what he had and called the McNairs' racing and pedigree manager John Adger and said point-blank, "Don't sell that mare.""He was such a happy horse," McKathan said. "He would do things playing the others would do working. After he'd work in fast time, instead of pulling up tired as most horses would, his tail would come straight up and he'd start swishing it and prancing around. He got to be too much for the girl who was riding him, and when we replaced her, she was in tears. Everyone was in love with this horse."That's what made his first start, in which he finished sixth at Del Mar as the 2-1 favorite, so disappointing and perplexing. Congaree's trainer Bob Baffert had seen his potential immediately and couldn't understand why he had run so poorly. After the race, Congaree's exercise rider mentioned that the colt seemed to be "leaning on the bit." A routine set of X-rays showed a small chip in his knee. "We figured it was bothering him a little, or would bother him in the future, so we decided to take it out," Baffert said.Five and a half months later, Congaree was back. The Kentucky Derby, a little over two months away, seemed like a faint dream. But nothing was impossible when it came to this colt. After his maiden victory, which he won by 5 lengths, running the fastest mile of the Santa Anita meet, Baffert proclaimed him as talented as his big horse Point Given. "He shouldn't have done what he did that day," Baffert said. "He wasn't ready to show that kind of brilliance."Another spectacular victory in a March 17 allowance race and he was off to New York to take on one of the 3-year-old kingpins, Monarchos, in the Wood Memorial. Suddenly, he was only one race away from the Kentucky Derby. "I'm champing at the bit to watch his race," J.B McKathan said from Keeneland, where he is inspecting 2-year-olds for an upcoming sale. "No matter what happens, he's gonna raise a lot of hell."Monarchos was coming off a breathtaking victory in the Florida Derby (gr. I), in which he blew by his opponents with a devastating burst of speed on the far turn before drawing off to a 4 1/2-length score. Also in the Wood was the undefeated Gotham (gr. III) winner Richly Blended, a front-runner who had won all three of his career starts by a average margin of 9 lengths. Congaree figured to lying second, and his rider Victor Espinoza would have to watch Richly Blended with one eye and Monarchos with the other.Baffert was so confident in Congaree, he said Monarchos would have to be a freak to beat him. All he told Espinoza was to get a good hard race into him, and keep him running. Monarchos was made the 4-5 favorite, with Congaree 8-5 in the six-horse field. Richly Blended, as expected, burst to the lead from the outside and opened a two-length lead after a quarter in :23.11. Congaree was three-wide into the clubhouse turn, then settled nicely in second. Monarchos dropped about seven lengths off the pace, which already put him at a disadvantage on a track that seemed to be favoring speed. His trainer John Ward realized that the colt could regress off the Florida Derby and wanted anything but a gut-wrencher.Down the backstretch, after a half in :46.12, Espinoza gave Congaree his head, and the big chestnut son of Arazi went after Richly Blended and quickly stuck his neck in front. Richly Blended wasn't quite ready to concede and regained a narrow lead. But Congaree, under no pressure at all, looked as if he could take him anytime he wanted. Monarchos meanwhile was already being pushed along by Chavez and was gradually making up ground along the inside. At the five-sixteenths pole, Congaree, like a boxer carrying his opponents for several rounds, finally floored Richly Blended with one punch and set sail for home. Monarchos, however, had to be hit twice with two very early left-handed whips. Congaree changed leads on cue and opened up by about 3 1/2 lengths nearing the eighth pole. Monarchos continued to dig in, but Congaree had too much left, crossing the wire 2 3/4 lengths in front. The time of 1:47.96 was three-fifths off the stakes record and four-fifths off the track record. It was another seven lengths back to Richly Blended.Ward feels Monarchos is now ready for a big effort on the first Saturday in May. "This was perfect," he said. "If he had chased him down the stretch and beaten him, he would have been a pretty wobbly legged animal."Baffert also said the race went right according to plan. "When there's nothing front of him, he grabs the bit and goes, and the last thing I wanted Victor to do was strangle him," he said. "He's like his sire; when he makes that move, you just don't get in his way."Following the race, McNair, who owns the new NFL team, the Houston Texans, received a congratulatory phone call from his coach Dom Capers, who had just one request. "I want a running back who can run like Congaree," he told McNair, who replied, "I want you to do a good job finding one."If he does, McNair's den could be decorated with Super Bowl and Kentucky Derby trophies much sooner than he anticipated.But first, Congaree must accomplish something no horse has done since Exterminator in 1918: win the Kentucky Derby with only four lifetime starts. Go ahead, tell him he can't do it. (Chart, Equibase)



Copyright © 2015 The Blood-Horse, Inc. All Rights Reserved.