Asmussen Case Remains in Dispute in New Mexico
by Leslie Deckard
Date Posted: 12/12/2006 8:47:33 AM
Last Updated: 12/14/2006 6:13:46 PM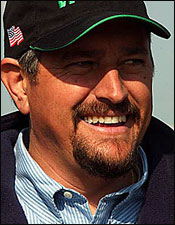 Trainer Steve Asmussen.
Photo: Anne M. Eberhardt

The New Mexico Racing Commission denied a settlement proposal from an attorney representing trainer Steve Asmussen, who is battling a six-month suspension after one of his horses tested positive for a prohibited Class 3 drug in March.Julian Luna, executive director of the New Mexico Racing Commission, said Asmussen's attorney, Billy Blackburn of Albuquerque, requested the commission place his client on probation as opposed to a suspension. In addition to the suspension, Asmussen was also fined $1,500 and the purse was ordered to be redistributed. "His attorney said Asmussen felt he had already been down 4 1/2 months (following a medication violation in Louisiana) so he wanted to be back (at the end of his suspension in Louisiana) up with the other month and an half probated," Luna said. "The ball is now in his court, he continued. "The stewards have issued their ruling. As far as the commission is concerned at this point and time that is still the penalty. He is currently under suspension here in New Mexico because we are reciprocating with Louisiana. So the commission feels that at this point and time he is serving his six months suspension."The Asmussen-trained Boots Are Walking tested positive for the prohibited substance acepromazine after winning the Bill Thomas Memorial Handicap March 4 at Sunland Park. Acepromazin is a commonly used tranquilizer for horses that decreases anxiety and causes central nervous system depression. Asmussen is currently serving a six-month suspension following a positive test for the Class 2 drug mepivaicaine, a local anesthetic, in a March 24 optional claiming race at Evangeline Downs, where his starter, No End in Sight, tested positive for the banned substance. The trainer was fined $2,500 and was ruled off the racetrack from July 10 through January 2007.Assistant Scott Blasi has been overseeing Asmussen's stable while he serves his suspension.



Copyright © 2015 The Blood-Horse, Inc. All Rights Reserved.