Winning Rider
by Ray Paulick
Date Posted: 12/5/2006 1:49:19 PM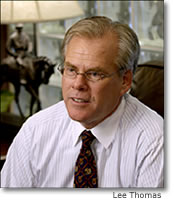 Ray Paulick
Editor-in-Chief


Russell Baze, unlike former Major League baseball star Rickey Henderson, knows his place in history. When Baze won for the 9,531st time and surpassed Laffit Pincay Jr. as racing's all-time leading jockey by wins Dec. 1, he humbly said, "I'm not saying I'm the greatest rider ever, but I'm the winningest rider ever."Henderson, on the other hand, proclaimed, "I am the greatest of all time" when he became the career leader for stolen bases in 1991, surpassing Hall of Famer Lou Brock. Brock was at Oakland Coliseum to see Henderson get the record, just as Pincay was at Bay Meadows to watch Baze.It isn't clear if Pincay was counted in the official attendance tally at the Bay Area track. A whopping 1,811 turned out, a statement less about public interest in Baze's accomplishment and more about the sad plight of American racing's disappearing on-track fan. With simulcasting, online wagering, streaming video, and racing channels TVG and HRTV broadcasting into the home, track operators have to give fans a reason to come out and experience the live product. Very few tracks are meeting that challenge.POLITICS OVER LOGICA deputy to New York City Mayor Michael Bloomberg is proposing the city's Off-Track Betting corporation merge with whichever group is awarded the franchise to run Aqueduct, Belmont Park, and Saratoga when the New York Racing Association's contract expires at the end of 2007.It's about time.It's worth repeating what has been said before: New York state's off-track betting structure, which essentially puts city- or county-run OTBs in competition with the tracks, is the worst system in the country. New York City's poorly managed and often seedy OTB parlors have been a blight on racing, damaging the sport's image for more than 30 years. Merging NYCOTB with the entity that operates the tracks makes perfect sense. Logic would suggest the state's other regional OTBs should be merged, too, but politics usually trump logic in the halls of the state capitol in Albany.TROUBLE AT THE TOPFour of American racing's top 10 trainers by money won in 2006 have been in the news this year because of alleged medication violations, news the industry could do without.Leading trainer Todd Pletcher sued the New York State Racing and Wagering Board in January in an attempt to overturn a 45-day suspension resulting from a horse in Pletcher's care testing positive for the nerve-blocking drug mepivacaine in 2004.California-based Doug O'Neill, ranked second, had one of his horses test above the permitted level for total carbon dioxide at Hollywood Park in May. He received no suspension, but for 30 days his horses were required to go to a detention barn 24 hours before they raced.Third-ranked Scott Lake recently began serving a 30-day suspension for a clenbuterol positive at Delaware Park after his appeal in court was denied. Lake, the runaway national leader by wins, blamed a former employee for intentionally administering the drug. According to a published report, this was Lake's fourth clenbuterol violation this year.Steve Asmussen ranks sixth in the standings even though he began serving a six-month suspension in July for a mepivacaine positive at Evangeline Downs in Louisiana. Asmussen said in an appeal the drug was administered mistakenly by a veterinarian.All four trainers oversee enormous racing stables. Lake has had more than 2,000 starters in 2006, Pletcher and Asmussen more than 1,100 each, and O'Neill has sent over 900 starters postward.With numbers like that, mistakes are bound to happen. But it's never good news when they do.



Copyright © 2015 The Blood-Horse, Inc. All Rights Reserved.