Baze, Pincay Prepare for Record
Updated: Thursday, November 23, 2006 1:57 PM
Posted: Wednesday, November 22, 2006 3:00 PM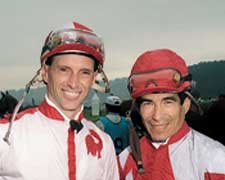 Photo: NTRA/Horsephotos
Russell Baze poses with racing's current winningest jockey, Laffit Pincay, Jr.
Russell Baze, with 9,519 career wins, still needs 11 victories to equal Laffit Pincay Jr.'s record as the winningest jockey of all time. But both riders are already getting geared up for the big moment.Pincay is planning to be there when Baze equals his record of 9,530 wins, and could head up to Bay Meadows as early as Friday, but most likely will wait until Saturday. Baze is scheduled to ride six horses on Wednesday and Thursday, and only three on Friday.If there is one thing Baze is not, it is nervous about breaking the record. "People ask if I'm getting nervous," Baze said Wednesday on a national teleconference. "Whenever I get close to a record I don't let a lot of tension build up and weigh on my mind. What's going to happen is going to happen."I thought I had a chance of catching Laffit for quite a while, but it became a very real possibility when Laffit's unfortunate accident caused the end of his career. Up until that point, he had been a moving target and I was slowly gathering him in, but he was still winning races at a pretty darn good clip. After that point, I felt if I could just stay healthy I'd have a good chance of catching him."Pincay always felt his record would one day fall, and now that it is about to happen, he wishes Baze the best of luck in his quest."When I think about Russell Baze I think about a very dedicated rider and a very strong rider," Pincay said. "He loves what he's doing, he shows up every day, and works hard and deserves to break the record. I thought either Russell or Pat Day would do it, so it's not surprising to me at all that he's so close and he's going to break it. I knew it all the time; there was no doubt in mind either of these two guys would do it."Baze says the key to success is to be able to stay out of trouble. "You have to be able to give your horse the best opportunity to run to his full potential," Baze said. "While you're doing that, most likely you're going to stay out of situations where you can possibly compromise your health as well as your mount's chances."Many people wonder why Baze has chosen to remain in Northern California throughout his career."I did spend three years in Southern California and had success while I was down there; I don't think I was ever out of the top 10 in the standings," Baze said. "But I just felt I could do better in Northern California, and my family is happy to be here. I was able to raise my kids where they could go to school in one place year round, so we decided to make the move back to Northern California. Also, at the time in Southern California it was a real fierce meet with riders like Laffit, and Gary Stevens, and Chris McCarron, and Eddie Delahoussaye."Baze, like most jockeys, did not start out his career with thoughts of breaking records. "I was just happy to be doing what I was doing and was tickled to death that someone was actually paying me to do it. I've never been a great one for setting goals. I always wanted to do the best that I could in each race as it came up, and just hoped that success would breed success."As for Baze obtaining the vast majority of his success on the lesser Northern California circuit, Pincay feels that does not detract from what he has accomplished in any way."In my opinion, a win is a win wherever it is," Pincay said. "It was tough for me to win races in Southern California and it was tough for me to win in Northern California and other places I went. It's all about winning races. I would have been very proud whether I won a title in Panama or anywhere else. And Russell should be very proud of what he's done."Although Baze has not been able to win a Triple Crown or Breeders' Cup race, he has no regrets about his decision to base in Northern California, where the chances are less likely to land a classic horse."I've had quite a few horses that were going to the Kentucky Derby, like Event of the Year, but things have happened along the way that prevented them from making it," Baze said. "Whose to say if I had stayed in Southern California or gone somewhere else to ride that I would have been as well-received as I have been in Northern California. So, I don't have any regrets; I think I've had a fantastic career."Baze said Lost in the Fog, last year's champion sprinter, most likely was the best horse he's ever ridden, and also mentions Event of the Year, Simply Majestic, Super Moment, and Great Communicator among his other top horses.Baze is already looking past Pincay's record, and feels he can continue his success for years to come. "I think 10,000 wins is not unreachable," he said. "If I can continue anywhere near my current pace, I think I can be able to reach that in a year and a half or so. I expect to be riding for at least that much longer, the good Lord willing. I can see myself riding past 50 if I can continue to feel as good as I do now. I don't see myself ever getting to the point where I just want to quit. I would miss the competitive aspect of it too much. In the heat of battle, I'm just as competitive as I ever was."Baze said he couldn't have done it alone. "My wife, first and foremost, has been very supportive of my career. She's been a rock," he said. "And second is my agent, Ray Harris, who has done a fantastic job keeping me on live horses. We've been together since 1979, and he's my friend as well as my business partner."Baze also thanked all the trainers who have supported him, especially Jerry Hollendorfer, and said he would love to set the record on one of Hollendorfer's horses, considering the number of winners the two have had together.Pincay said he is proud to have been the winningest rider in the world. "I'm sure Russell will enjoy it just as much as I have, and will be just as proud," he said.
FREE! E-Newsletters from The Blood-Horse!...
Follow the top stories of major racing events, racing previews and results with FREE e-newsletters from bloodhorse.com. As news develops, we'll deliver updates to your inbox. Follow important events moment by moment, step by step!