BC Classic Post Position Analysis: Anatomy of a Theft
by Steve Haskin
Date Posted: 11/1/2006 6:16:20 PM
Last Updated: 11/3/2006 1:14:50 PM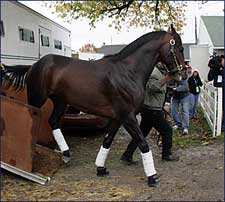 Classic favorite Bernardini arrives at Churchill Downs Wednesday afternoon.
Order This Photo
Photo: Barbara D. Livingston

Looking at the post positions for the Breeders' Cup Classic – Powered by Dodge (gr. I), one can expect plenty of action up front, with several jockeys having to make a split decision whether or not to commit their horse to the lead, or at least to be a major pace factor. But is it possible a horse can get a clear lead...and actually hold it?On paper, it appears that Brother Derek, breaking from the rail, will have to show good speed and be right up there on the pace. Suave, breaking from post 12, also cannot afford to be caught napping and risk getting hung out to dry on the first turn. Lawyer Ron, who drew post 5, will be ridden by Pat Valenzuela, and that tells you all you need to know about his tactics. Todd Pletcher has been training Lawyer Ron in draw reins, which has helped the colt lower his head and relax better in his gallops, so it is interesting to say the least that Valenzuela was chosen to ride him, with his aggressive style.Lava Man drew well in post 8, and you know he will be right up there. Premium Tap would be better suited taking back some five or six lengths off the pace, but we'll have to see if that strategy plays out from the 2-post.Bernardini is down toward the inside in post 3, which makes the bulls eye on his back even more pronounced, and you know rival jocks, especially Valenzuela, are going to be trying to get him trapped. But with $5 million on the line, and some hefty purses for second, third, and fourth, it would be foolish to concentrate too much on Bernardini at the risk of costing your horse a placing. But, sometimes, jockeys will be jockeys – watch the replay of the 2004 Belmont Stakes (gr. I) to see a perfect example of self-destruction by three big-name riders, who rode to get Smarty Jones beat and cost themselves any chance of victory. And one must remember that Bernardini ran perhaps the best race of his life when he came from several lengths off the pace and was down on the rail in the Preakness (gr. I).So, is there going to be a mad scramble for the lead? Will any jock have a clear-cut plan what he's supposed to do? And the final question, as referred to earlier: can any horse actually get a clear lead and hold it a lot longer than people think?It is folly to think anyone can steal this race and pull a fast one on a horse like Bernardini, but if you're 30-1, why not at least give it a try, rather than take a passive approach and follow the pack.So, with that in mind, let's play trainer. Pretend you are Paul McGee about to give instructions to Kent Desormeaux, who will become the 13th rider to sit on the back of Suave. Here is what you know about your horse: he has been in front after the first quarter three times in his career and won all three times; after his career debut debacle, his has won three of his five starts at Churchill Downs; when he has his way and is clear of other horses, he is a tiger and can turn in some huge speed figures; when things don't go his way, and he gets stuck in traffic, he packs it in and calls it a day; and finally, the farther he goes the better, with three of the best races he's ever run coming at 1 1/4 miles, and the other coming at 1 3/16 miles.With that knowledge, here is what you might want to tell Desormeaux: "OK, Kent, you're well aware we have to break alertly to avoid getting hung wide on the first turn. All the other riders are going to try to break quickly and then survey the situation to see if anyone is intent of going for the lead. While they're doing that, you let them know you mean business today and you want the lead. Once they see a 30-1 shot going to the lead, they will be content to sit back a little and not burn out their horse trying to outrun you for the lead. They all know they're going to have to save enough horse to cope with Bernardini at some point and then the deep closers."If that part works, and you have a clear lead, rope him in heading into the backstretch and try to slow the pace down a little. No one is going to be paying much attention to you. Lava Man will be watching for Bernardini, who will be watching Lava Man and Invasor, who will be watching Bernardini and Lava Man. Who would be foolish enough to go after a horse who just finished dead-last in the Woodward (gr. I)? We know he 'bounced' a little off his monster effort in the Washington Park Handicap (gr. II) and had to steady going into the first turn, while in between horses, which is a recipe for disaster for this colt. If for some reason Valenzuela's trigger finger gets itchy, as it often does, then we can rely on the colt's heart, which we know he has, to repulse the challenge. But hopefully, PVal will be smarter than that and won't do something to incur the wrath of Todd Pletcher."Try to maintain that lead until the three-eighths pole. This is when Lava Man is going to give that deadly spurt of his and when Bernardini is going to come running, and also Invasor. Before they have a chance to, you gun Suave and try to open up even more and keep driving him every step of the way, thus turning the race into a test of stamina and making the big guns play stretch runner, something they're not used to. If someone comes running and beats you, or even if two horses catch you, so be it; at least we'll go down fighting and maybe even salvage a piece of it. Oh, one other thing; if all this fails to develop, keep the horse clear on the outside and hope for the best."Now, if Suave doesn't use those tactics, it could even work for a horse like Premium Tap, who should either be taken off the pace or try to dictate the pace if no one wants it. He also has the pedigree to turn the race into a test of stamina. This is not a good spot for him to be stalking the pace amongst all those monsters. He showed in the Kentucky Cup Classic (gr. II), prior to his near-disastrous stumble, that he can sit back and quicken on cue.Will any of this actually play out? Probably not, but part of the fun of handicapping a race like this is to try to figure out how it will be run, and break down all the possible scenarios. There are eight million stories in the Breeders' Cup Classic. This has been one of them (apologies to "The Naked City").



Copyright © 2015 The Blood-Horse, Inc. All Rights Reserved.