Less is More
by Ray Paulick
Date Posted: 10/31/2006 11:31:00 AM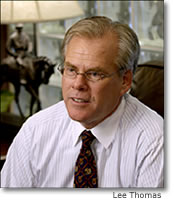 Ray Paulick
Editor-in-Chief


California Horse Racing Board vice chairman Marie Moretti appears fed up with the fighting among track management over racing dates in the Golden State. At the CHRB's most recent meeting, when 2007 racing dates were awarded, she made this comment: "I've never seen an industry that's so contentious and hateful to each other."Moretti was reacting to the intense lobbying ("veiled threats" she called it) she and other board members were subjected to as the Oct. 26 dates hearing approached.The problem is, there is too much racing in California, both in the northern and southern part of the state. Racetrack owners apparently don't agree, however, as they fight to keep each racing day they can. Fields are short, and the quality of racing is deteriorating. In Northern California, both Golden Gate Fields and Bay Meadows had an average of less than seven starters per race. Tracks on the Northern California fair circruit have as few as 6.42 starters per race (Ferndale) and as many as 8.32 (Fresno).Southern California tracks fared somewhat better: 8.47 per race at Santa Anita and the Oak Tree Racing Association's meeting at the Arcadia track; Hollywood Park had 7.9 starters per race last autumn and in the 2006 summer meet. Del Mar had an average of 8.46 starters per race.The Japan Racing Association, which operates the most successful race meetings in the world in terms of average daily handle and purses, has more than 14 starters per race on average. Purses average upwards of $250,000 per race, fueled by daily average handle of about $91 million. Only on the Triple Crown and Breeders' Cup programs do any American racetracks exceed $91 million in daily handle. The JRA only races weekends, offering approximately 3,500 races each year. California alone ran 5,012 races in 2005. Jerry Brown, California's offbeat governor from the late 1970s and early 1980s, preached "less is more" during his time in office. Maybe he wasn't so crazy after all.Some tracks are beginning to voluntarily cut back on racing dates. New Jersey's Meadowlands and Monmouth Park trimmed their racing schedules in 2003. Arlington Park near Chicago will run four days per week in May and June next year. Lone Star Park near Dallas is also dropping to four days per week in 2007. Maryland tracks are cutting back and horsemen and racetrack owners in Ohio agreed last year to slash the number of dates.The CHRB mandated synthetic surfaces for all California tracks by 2008, with Hollywood Park the first to move on the issue. It has installed Cushion Track for a live meeting that began Nov. 1, and the surface has received rave reviews from horsemen training there. Synthetic surfaces may increase the length of a horse's career, or prevent injuries that can knock one out of training. Early reports suggest far fewer injuries on Polytrack, which now is being used at Turfway Park and Keeneland in Kentucky and Woodbine in Canada. The regulatory body made a strong move in forcing tracks to install synthetic surfaces. Some think the CHRB members acted too soon, suggesting that a wait-and-see approach might have been more prudent. Others, citing the attrition rate of California-based horses, say the board couldn't act soon enough.The oversaturation of racing in California needs similar attention and a bold solution. One potential resolution, and one nobody wants to see, is the closing and development of Bay Meadows and Hollywood Park by the Bay Meadows Land Co., which owns the two tracks. The company has not made a commitment to race at Hollywood Park beyond 2008 and it wants to develop Bay Meadows before then.It's too late to change anything for 2007, but California racing will be better served by a serious reduction of racing in 2008 and beyond. It's up to the CHRB to convince the industry it's the right thing to do.



Copyright © 2015 The Blood-Horse, Inc. All Rights Reserved.