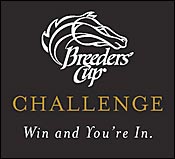 July 28 at Saratoga (televised on ABC from 4-6 p.m. Eastern)Whitney Handicap (Classic Division)
Go For Wand Stakes (Distaff Division)
Alfred G. Vanderbilt Handicap (Sprint Division)
Diana Handicap (Filly & Mare Turf Division)Aug. 11 at Arlington Park (ESPN2 from 4-6 p.m. Eastern)Arlington Million (Turf Division)
Secretariat Stakes (Turf Division)
Beverly D. Stakes (Filly & Mare Turf)Aug. 19 at Del Mar (ESPN2 from 7-8 p.m. Eastern)Pacific Classic (Classic Division)
Pat O'Brien Handicap (Sprint Division)
Del Mar Mile (Mile Division)Sept. 30 at Belmont Park (ESPN from 4-6 p.m. Eastern)Jockey Club Gold Cup (Classic Division)
Goodwood Handicap from Oak Tree at Santa Anita (Classic Division)
Beldame Stakes (Distaff Division)
Joe Hirsch Turf Classic (Turf Division)
Vosburgh Stakes (Sprint Division)Oct. 6 at Keeneland (ESPN from 4-6 p.m. Eastern)First Lady Stakes (Filly & Mare Turf Division)
Shadwell Turf Mile (Mile Division)
Lane's End Breeders' Futurity (Juvenile Division)
Champagne Stakes from Belmont (Juvenile Division)
Phoenix Stakes (Sprint Division)Oct. 7 at Oak Tree at Santa Anita (ESPN2 from 5-7 p.m. Eastern)Ancient Title Handicap (Sprint Division)
Lady's Secret Handicap (Distaff Division)
Juddmonte Spinster Stakes from Keeneland (Distaff Division)
Oak Tree Mile (Mile Division)(The $20-million World Championships is scheduled for Oct. 27 at Monmouth Park in New Jersey. ESPN will provide live coverage from noon-7 p.m. Eastern.)The rescheduling of some stakes required cooperation from racetracks. Though a complete revamping of the national stakes schedule to maximize participation is pie-in-the-sky, at least at this point, officials believe the Breeders' Cup Challenge is a step in the right direction.Breeders' Cup will provide about $2.5 million in marketing and promotional funds for the six big-event days. The budget calls for about $250,000 to be spent per track on national advertising. Tracks would be responsible for advertising in their local markets, and there could be giveaways of what officials called "premium" Breeders' Cup merchandise."It has been a collaborative effort with the racetracks," said Keith Chamblin, senior vice president of communications for Breeders' Cup and the NTRA. "What works at Saratoga on Whitney day may not work at Del Mar on Pacific Classic day."There has been some talk the host tracks would receive other financial incentives, but officials said the terms of the deal are confidential. Breeders' Cup and the tracks have two-year deals by which Breeders' Cup will "buy rights to clean venues," Avioli said, so it can attract sponsors.Several years ago, the Thoroughbred Owners and Breeders Association put forth an idea for the Thoroughbred Championship Tour, which called for a series of big-event days to bridge the Triple Crown and Breeders' Cup. The TCT, much more complex than the Breeders' Cup Challenge, would have offered racehorse owners an equity stake in the series and derived revenue from pari-mutuel handle.TOBA was unable to come to an agreement with Breeders' Cup and the NTRA on the TCT. The plan was scrapped, but not after generating friction among major players in the Thoroughbred industry.TOBA president Dan Metzger, who headed the TCT effort, said TOBA is committed to improving the economics, integrity, and pleasure of horse racing. He said he hopes the Breeders' Cup Challenge is successful."We've always wanted a series--or a tour--to move the sport forward," Metzger said. "We challenged and encouraged the Breeders' Cup to do something on its own, and we hope this series is successful and moves the sport forward."Breeders' Cup officials said they aren't sure how Stakes Program funds--about $5.5 million after the participation fees are deducted--will be awarded next year. But they said the organization surveyed nominators to find out how they'd like the money spent.The Breeders' Cup Challenge was introduced during a luncheon in Louisville, Ky., where the World Championships will be held Nov. 4. Trainer D. Wayne Lukas, on hand for the luncheon, commended the changes but called for more options to win berths in races and less reliance on a panel of officials to select horses.Currently, seven horses get into a Breeders' Cup race on points, and the other seven (in a full 14-horse field) are selected by the panel."I think we'll see broader participation in these 24 races, and I think Breeders' Cup will seriously consider (Lukas') suggestions regarding how 'Win and You're In' impacts field selection," Chamblin said after Lukas made his comments. "There has been a lot of discussion based on the fact we wanted to retain the ability of the committee to having the leeway to select as many horses as possible. Wayne said the exact opposite--tell me the various ways I can earn my way into the championship."Avioli confirmed the current selection process would remain in place through 2007; the "Win and You're In" horses will fill spots previously filled on points criteria.