Countdown to the Cup: Tapping In On a Classic Longshot
by Steve Haskin
Date Posted: 10/23/2006 11:12:13 AM
Last Updated: 10/26/2006 8:02:09 PM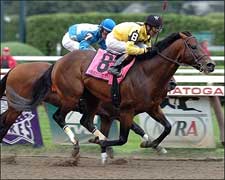 Haskin thinks Premium Tap could be sitting on a money run.
Order This Photo
Photo: Coglianese Photos

OK, so Bernardini supposedly is a lock in the Breeders' Cup Classic – Powered by Dodge (gr. I). And if he doesn't win, how can you look past Lava Man and Invasor? And Sun King, Brother Derek, and Europeans George Washington and David Junior also will get support. After that, good luck. But let's get bold and try to ferret out an early longshot.Perfect Drift, the veteran of the Classic, and hometown hero, will have his share of followers, and if the fates are on his side, no one is more deserving of a victory than this 7-year-old warrior.But there is one horse that will be overlooked who has no romantic tales or rags-to-riches story behind him. On paper, however, he has an excellent chance to run a huge race at a big price. The horse in question is Premium Tap.This is not to suggest that Premium Tap is going to beat all those horses mentioned above. But he does have a big shot to make his presence felt and possibly sneak into the exotics. And, yes, the feeling here is that he is worth some kind of a win bet just for the fun of it.What is attractive about Premium Tap is the number of angles he has going for him, which added up, could make him an attractive prospect for those looking for a handsome return on their trifecta and superfecta boxes.First off, he is a grade I winner, as recently as Sept. 2 when he upset the Woodward Stakes at odds of 31-1, defeating Sun King (for the second time in two months), Flower Alley, and Suave among others.As most everyone knows, in his last start, the Kentucky Cup Classic (gr. II), he was making what appeared to be a winning move on the turn when he got shut off and clipped heels badly, nearly going down. He was able to quickly gather himself and get back in stride, and then came running again to challenge for the lead in the stretch. Although the incident eventually took its toll and he was unable to sustain his run, he still was beaten only 1 1/2 lengths, while closing his last three fractions in :24 1/5, :24 1/5, and :12 2/5 – and that was with getting stopped cold, stumbling badly, and dropping out of it. And, the belief here is that, even with all his troubles, he still would have been third had Kent Desormeaux kept riding him hard to the wire. After all, he was only nipped by a neck and a nose in the final jump and was only passed after Desormeaux stopped persevering with him.When Premium Tap defeated Sun King by 3 1/4 lengths on July 7, he ran the 1 1/16 miles in 1:40 3/5, which was one of the fastest, if not the fastest, times of the meet at that distance, and only a second off the track record. His rider that day was Edgar Prado, who is one-for-one on him and was aboard for his sharp :59 4/5 bullet breeze on Sunday, the fastest of 78 works at the distance. Prado will replace Desormeaux in the Classic.For those who hold Premium Tap's fifth-place finish in the Whitney (gr. I) against him, it must be mentioned that he went into that race with only one five-furlong breeze (1:01 3/5) in 29 days, due to poor track conditions at Saratoga, which prevented him from working.Also, Premium Tap's numbers on one of the major speed sheets suggest he is sitting on a big effort, one that could put him right up there with the favorites. And it must be remembered that his sire line is known for horses reaching their peak at 4, and even 5. So, there is a chance he may ready for an all-time best performance on Nov. 4.When it comes to the Classic, Premium Tap has a rich family history. His sire, Pleasant Tap, finished second in the Classic. Pleasant Tap's sire, Pleasant Colony, sired Classic winner

Pleasantly Perfect

, who also finished third in the Classic. Pleasant Colony's sire, His Majesty, is a full-brother to Graustark, sire of Classic winner Proud TruthPremium Tap's broodmare sire, Thirty Six Red, finished third in the Classic. Thirty Six Red's sire, Slew o' Gold, finished second in the Classic and sired Dramatic Gold, third in the Classic. Slew o' Gold's sire, Seattle Slew, sired Classic winner

A.P. Indy

. Seattle Slew also is the broodmare sire of Classic winner Cigar (who also finished third in the Classic) and great-grandsire of two-time Classic winner Tiznow .Premium Tap's dam, Premium Red, is out of a mare by Affirmed, who is the broodmare sire of Pleasantly Perfect, thus giving Premium Tap the same cross as the 2003 Classic winner. Also in Premium Tap's female family is Lyphard, sire of the classy filly Jolypha, who finished third to A.P. Indy in the Classic.So, in Premium Tap's first four generations, you can find horses who won or placed in no less than 13 BC Classics. To add even more stamina to his family, he is inbred 3 x 4 to one of the last remaining great stamina influences, Stage Door Johnny, winner of the Belmont Stakes.With all the preps in the books, and nothing but two weeks of watching and waiting, this is a perfect opportunity to ponder various angles and try to latch on to a long shot or two to play around with. Speaking of early long shots, watching the replay of the Alcibiades Stakes (gr. II), it might be wise to keep an eye on the status of Gatorize, who had a terrible trip from the 12-post, dropping back to 11th. She demonstrated an explosive turn of foot on the far turn, but had to fan some seven wide at the top of the stretch. She still was able to close strongly out in the middle of the track to finish fifth, beaten a little over four lengths. If she makes it into the field, she has a good shot at an upset for trainer Helen Pitts.Another possible live longshot is Round Pond in the Emirates Airline Distaff (gr. I) (for the reasons mentioned in last week's column). With so many strong favorites and second choices this year, it's not going to be easy to come up with quality long shots, so why not at least get an early start on it during this lull?Golden oldiesYou have to go back to 1997 to find the last Jockey Club Gold Cup (gr. I) winner to capture the Classic. Not only have there been none since, of the eight horses who won the Gold Cup, two didn't run in the Classic, and the six that did all finished out of the money. Before all the Bernardini fans turn pale over this little fact, it must be said that none of the six who failed had credentials anywhere remotely close to Bernardini's. So, why even bring it up? The lull, remember? And any pattern - or trend - is worth at least mentioning if there is a connection to a star like Bernardini. Anyway, the six Gold Cup winners who failed in the Classic were

Borrego

, Funny Cide, Evening Attire, Albert the Great ,

Aptitude

, and River Keen. The only two Gold Cup winners since the Breeders' Cup's inception who have repeated in the Classic are

Skip Away

and Cigar, and the only other Classic winner to come out of the Gold Cup was A.P. Indy (sire of Bernardini), who finished third at Belmont after a horrendous start that cost him all chance. The Gold Cup, however, has produced 14 horses who have finished second or third in the Classic.Speaking of Breeders' Cup preps, can anyone name the finals preps used by the last six winners of the Bessemer Trust Juvenile (gr. I)? Before you run and look it up, I'll tell you: The Del Mar Futurity, Royal Lodge Stakes in England, a maiden race at Santa Anita, the Kentucky Cup Juvenile, Middle Park Stakes in England, and Grey Breeders' Cup Stakes at Woodbine. It is pretty obvious that the Juvenile winner can come from anywhere.In other Breeders' Cup news:-- It was reported in Monday's Racing Times that Shirocco likely will be retired shortly and will not attempt a second victory in the BC Turf. Last year's Prix de l'Arc de Triomphe (Fra-I) winner Hurricane Run, who has lost his last three since winning the King George I and Queen Elizabeth Stakes (Eng-I), will make his third start in five weeks when he tackles the Turf. With George Washington confirmed for the Classic, Aidan O'Brien will send over three for the Mile -- Ad Valorem, Aussie Rules, and Ivan Denisovich. Mick Kinane has been named to ride George Washington. Last year's St. Leger (Eng-I) winner Scorpion will represent Ballydoyle in the BC Turf.-- This could be a huge year for 3-year-olds in the Breeders' Cup, with Bernardini in the Classic, Henny Hughes in the Sprint, Wait a While in the Filly & Mare Turf, and Pine Island in the Distaff all expected to be either the favorite or second choice.-- With jockeys and their agents frantically trying to latch on to as many Breeders' Cup horses as possible, here is the present roster for Todd Pletcher's go-to rider, John Velazquez, who will have a mount in every race. Velazquez is confirmed on English Channel in the Turf, Henny Hughes in the Sprint, Honey Ryder in the Filly & Mare Turf, Pool Land in the Distaff, Scat Daddy in the Juvenile, Cotton Blossom in the Juvenile Fillies, Araafa in the Mile, and probably either Lawyer Ron or Flower Alley in the Classic.-- Prado, in addition to Premium Tap, has secured mounts on Cacique in the Turf, Round Pond in the Distaff, Nightmare Affair in the Sprint, and King of the Roxy in the Juvenile. -- So, what is the deal with Flower Alley? After turning in two dismal efforts at Saratoga, 50% of the breeding rights to last year's Classic runner-up were sold to Three Chimneys Farm. Just when everyone thought that was the last we'd see of the colt on the racetrack, he becomes a possible starter for the Classic, and then goes down to Churchill Downs and turns in a super six-furlong work in 1:13 2/5. Will he bounce back and run like the Flower Alley of last year? No one, not even Pletcher, has a clue. So, you'll have to go by gut feeling in his case and hope he makes a dramatic turnaround and returns to his form of last summer and fall.-- Staying with Pletcher a little longer, the wide belief is that he is so successful because he gets all the expensive, well-bred horses. Although he does get a good number of them, he will be represented in the Breeders' Cup by horses sired by Lasting Approval, Smart Strike (2), Littleexpectations, Indian Charlie, Broken Vow, Crafty Friend, Thunder Gulch, and Silver Deputy. Those types far outnumber his horses sired by higher-profile stallions. Of Pletcher's 16 Breeders' Cup hopefuls, his most expensive is Pool Land, who was purchased for $475,000. English Channel, who could wind up the favorite for the Turf, cost $50,000.-- Judging by his :45 3/5 work last week over Keeneland's Polytrack surface , Commentator, assuming he breaks well this time, should provide a lot of early heat in the Sprint. On his best day, he can match any horse in the country for pure speed, but he prefers to use that speed going a little longer, so he cannot afford to make any mistakes going six furlongs, especially at the break.With Bordonaro now heading for the Sprint, that gives California a strong one-two punch, with Bordonaro, a major pace factor, and Siren Lure, a powerful closer.



Copyright © 2015 The Blood-Horse, Inc. All Rights Reserved.