Keeneland Race Report: Fleet Renee Preps for Oaks With Ashland Romp
by Deirdre B. Biles
Date Posted: 4/7/2001 7:24:48 PM
Last Updated: 4/18/2001 10:26:07 AM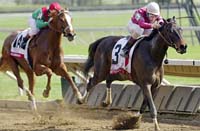 Fleet Renee en route to her upset victory over Golden Ballet in the Ashland Stakes.
Photo: Associated Press/Ed Reincke

Michael Dickinson surprised us in 1996, when Da Hoss conquered the heavy favorite, Mark of Esteem, in the Breeders' Cup Mile (gr. I). He surprised us again in 1998, when Da Hoss won the same race after a long layoff and just one prep. But this time the trainer surprised even himself. After he saddled Fleet Renee to upset the formidable Golden Ballet in the April 7 Ashland Stakes (gr. I) at Keeneland, Dickinson looked a little bit stunned. "Did we think we would win today? No, we thought we would be third," he said. "Did we think we would be good enough? We didn't know. We were using this race as a stepping-stone for the Kentucky Oaks (gr. I), so the win was a bonus." Fleet Renee's performance at Keeneland was a shock to almost everyone. Verne Winchell's homebred filly had been brought along slowly by Dickinson, who wanted to give her time to mature. At two, the long-legged daughter of Seattle Slew competed only twice, breaking her maiden by 8 1/4 lengths in her second start. This year, before the Ashland, she won an allowance race at Aqueduct and a minor stakes, the Landaura, at Laurel Park. Instead of racing, Fleet Renee spent most of her time relaxing at Dickinson's Tapeta Farm in Maryland, where she romped for several hours each day in a paddock with her best friend, a 5-year-old gelding named Al Huevo. Based on a heart scan that was performed last year on Fleet Renee by Dr. David Lambert, Dickinson had high hopes. But he planned on waiting until the Kentucky Oaks to test his filly against the nation's best, thinking the 1 1/8 miles would suit her better than the 1 1/16 miles of the Ashland. "I wanted to run in one more small race, but David Fiske, who is Mr. Winchell's farm manager, insisted that we come here," Dickinson said. "He was right, and I was wrong. I want to thank him." Like Dickinson, the Keeneland crowd of 20,889 also had doubts about Fleet Renee's chances for victory, dismissing her at 9-1. Instead, the fans backed Golden Ballet and Latour, who raced as an entry and were the 1-2 favorites in the field of 11 3-year-old fillies. Latour had won the Davona Dale Stakes (gr. II) in her most recent start. But Golden Ballet was the bigger draw based on her five-race win streak, which included victories in the Santa Anita Oaks (gr. I) and the Las Virgenes Stakes (gr. I). With Chris McCarron aboard, Golden Ballet shot to the front in the $576,250 Ashland while Latour and Fleet Renee stalked her through soft fractions. As the three rolled down the backstretch, Fleet Renee moved up to second. She caught Golden Ballet in the final turn, and the two raced side-by-side until the sixteenth pole, where Fleet Renee surged ahead even though Golden Ballet made a late lead change. "She finished up unbelievably," said winning jockey John Velazquez. "She just really floated; it was awesome." Fleet Renee defeated Golden Ballet by 2 1/2 lengths, stopping the clock in 1:43.77. Latour finished another 7 1/4 lengths behind in third. Florida Oaks (gr. III) winner Quick Tip was fourth, and Silverbulletday Stakes (gr. III) winner Lakenheath rallied from 10th to fifth. "She had plenty of fight in her, but the last sixteenth of a mile, her energy level wasn't the same," said McCarron of Golden Ballet. The late lead change, according to the rider, was not a factor. "If I want to make her change leads, I have to set her up to do that," he said. "Sometimes, when you do that in the heat of battle, when they're going head-and-head, it interrupts their momentum. So I didn't make her change until I felt like 'oh man, I'm not keeping up anymore.' She didn't kick on again, even after she switched, so it was irrelevant." Golden Ballet's trainer, Jenine Sahadi, wasn't sure what went wrong with her big chestnut filly, who was racing for the first time outside California. Sahadi sat alone on a bench outside the detention barn while Golden Ballet cooled out underneath the shedrow. "She might be a little tired," she said. "It was a long way to come. It's hot here, and it's windy. She's run four times this year, with three wins and a second; it's no disgrace. I'm proud of her. We'll take her home, give her a breather, and regroup." At the top of the hill, in Keeneland's directors' room, Dickinson, Lambert, and Fiske were celebrating Fleet Renee's wins with champagne. Fiske, who stepped outside to talk to reporters, tried to downplay his role in the decision to send the filly to Keeneland. "It was kind of a group decision," said Fiske, who raised Fleet Renee at Winchell's Oakwind Farm near Lexington. "Mr. Winchell was involved, and so were Michael and myself. It was a decision by committee. Actually, it came down to the fact there really weren't that many other places to run her. We were just hoping to get a good race out of her today and move on to Churchill Downs. Michael thought the distance was too short for her, so I think he was a little bit surprised. I thought she would run well, but I didn't think she would beat Golden Ballet. I thought Golden Ballet was a 'for real' good horse, and we had to get all the breaks. She (Fleet Renee) is probably better than I thought she was." Winchell, who made his fortune in the doughnut business, did not travel to Keeneland. He remained at his home in Las Vegas, thinking he might pop over to Southern California to watch another of his homebreds, Early Flyer, run in the Santa Anita Derby (gr. I). But Early Flyer was scratched and pointed to the April 14 California Derby at Bay Meadows instead. "Fleet Renee is named for Mr. Winchell's bookkeeper, Renee Murray," Fiske said. "We've always thought that she would be a good one. She just seemed to do everything right, and when she was broken, she moved so well. We couldn't fault her in
any way."   (Chart, Equibase)



Copyright © 2015 The Blood-Horse, Inc. All Rights Reserved.