Countdown to the Cup: Uruguayans Still Have Love Affair with Invasor
Updated: Wednesday, October 11, 2006 5:58 PM
Posted: Wednesday, October 11, 2006 5:36 PM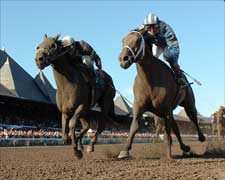 Photo: Coglianese Photos
Whitney winner Invasor still national hero in native land of Uruguay.
Order This Photo
With all the talk about Bernardini and Lava Man following their final preps for the Breeders' Cup Classic - Powered by Dodge (gr. I), the name Invasor suddenly has become a mere whisper among the shouting. But for the people of Uruguay, it is their hero who is still the rightful king of Thoroughbred racing. Prior to the Oct. 7 Jockey Club Gold Cup (gr. I), Uruguayans throughout the country were all prepared to flock to their nearest simulcast facilities to cheer on the horse they adopted and remain loyal to even after his sale to Sheikh Hamdan Maktoum's Shadwell Farm. But a fever prevented the colt from running, and now the fans will have to wait for the Breeders' Cup.."There was great anticipation here for the Jockey Club Gold Cup," said Pablo Roig, editor of
Uruguay Turf Line
. "Here in Montivideo, we follow all his races through the OTB simulcasts, and the people are enjoying all his victories.""In Uruguay, soccer is our main sport," said Luis Costa Baleta, a horse owner from a long-time Uruguayan racing family, who currently is working on a project to build a racing museum in Uruguay to celebrate the country's history. "Whenever the national team plays, the entire country stops to watch the match. Since Invasor has gone to the United States, every time he runs, all the simulcast halls are crowded with people who come to see him and bet on him. They shout and cheer for him as if Uruguay was playing in the finals of the World Cup. They treat the horse as if he was still their own. No one can imagine what it's like. He's become a national hero."Invasor, who was bred in Argentina, was purchased for $20,000 as a 2-year-old by brothers Juan Luis and Luis Alberto Vio Bado and Pablo Hernandez. After sweeping the Uruguayan Triple Crown in brilliant fashion, while undefeated in five career starts, he was sold to Shadwell for $1.5 million, which is a great deal of money in Uruguay, considering Invasor's total earnings there were $113,866. It was hoped to run him in the country's big championship race - the Gran Premio Internacional Jose Pedro Ramirez for 3-year-olds and up - but Shadwell's offer was too lucrative to turn down, although one of the Vio Bado brothers was reluctant to sell.In his five starts in Uruguay, all at picturesque Maronas Racetrack, Invasor, trained by Anibal San Martin, won at five different distances from 5 1/2 furlongs to 1 9/16 miles. His average margin of victory was five lengths. His jockey, the veteran Gustavo Duarte, who is one of the leading riders in Uruguay, called Invasor the best horse he's ever ridden. Invasor's accomplishments are all the more remarkable considering his winning streak was interrupted by a fractured right hind sesamoid that required surgery. After being sold, he was sent to Dubai, where he finished fourth in the UAE Derby (UAE-II) after encountering traffic problems. He actually came on again in the stretch to be beaten a length for second. Baleta attributes his defeat to the change in hemisphere and weather.Sent to the United States under the care of Kiaran McLaughlin, Invasor emerged as a star by rattling off victories in the Pimlico Special, Suburban Handicap, and Whitney Handicap (all grade I). Now, he attempts to take the spotlight and Horse of the Year honors away from Bernardini, who races in the Darley Stable colors of Sheikh Hamdan's brother Sheikh Mohammed.Among those who had planned to be at Belmont to cheer on Invasor is one of his former owners, Pablo Hernandez, who admits the decision to sell the horse was an agonizing one. "I am 42 years old and have faced many challenges and dilemmas in my life," Hernandez said. "But, surely, the uncertainty of whether or not to sell Invasor gave me many sleepless nights. To be one of the co-owners of a Triple Crown winner is something that rarely happens to a Thoroughbred owner, especially in Uruguay. After so many decades of not having a Triple Crown winner, to suddenly realize that your horse has become a national hero to the enthusiastic Uruguayan racing fans is very shocking."In only six months, Invasor showed so much ability that every newspaper, radio and TV channel, as well as the local Turf magazines, had something about our champion every day. Invasor had invaded our life so deeply that all the talk at work and at home, from breakfast to dinner, was about him."Hernandez recalled how his magical journey with Invasor began one morning in Buenos Aires."We had flown to Argentina and were scheduled to take a small plane to La Biznaga Farm, where we were going to look at horses. But the plane had engine failure and the trip was canceled. Our friend, Miguel Ezcurra, from Bullrich Auctioneers, took us by car to visit some smaller farms near Buenos Aires. After having seen some 80 colts and fillies at several farms, we went to Clausan Farm in Areco, a province of Buenos Aires, and that's where we met Invasor. Immediately, it was as if we had been hit with Cupid's arrow. We just fell in love with him."Sandro Mizeroqui, owner of Clausan Farm, which has since been re-named Haras Santa Ines, was asking $25,000 for the horse. Hernandez and the Vio Bados offered $18,000, and both parties eventually settled for $20,000. "We purchased him and exported him to Maronas Racetrack in Uruguay," Hernandez said. "Our lucky strike had begun."Invasor took Hernandez and the Vio Bado brothers on a ride they will never forget. Although the horse no longer is theirs, the memories remain close to their heart, and Hernandez can now rejoice in his victories as a fan."I have thousands of images of Invasor in my memory – some that make me weep and others that bring me much happiness. But the bitter memory is the day I had to say farewell to him. That is still hard to forget, because of the feelings we all had for him. It was a silent farewell, because inside our souls, none of us wanted Invasor leaving our daily life. Every time he ran at Maronas, the fans filled the racetrack to watch him run and to try to touch him and take pictures with him. They even tried to get strands of his hair as a souvenir."Finally, the departure day came. It reminded me of that day years ago when I, like many Uruguayans, emigrated to Europe. I had graduated from dentistry school and went to Spain for a post-graduate in dental surgery. I remember how my grandmother cried silently the day I left. I can understand how she felt, because I felt the same way the day I had to say goodbye to Invasor. It was like saying goodbye to a son you were never going to see again."Although the plane left very early in the morning, a lot of people showed up at the airport to say their goodbyes to Invasor. I traveled inside the trailer with him from the stable to the airport. He surely knew he was leaving and was more gentle than ever before. When he got out of the trailer and walked inside the plane, it was as if he were a frequent traveler. This image is still so fresh in my memory, and I remember quietly wishing him the best of luck with his new owners and his future race campaign. I had a lump in my throat as I stood there cuddling with him until his lad, seeing how I felt, came over and hugged me and exclaimed. 'Invasor will always be ours.'"But Invasor was not to be the son Hernandez would never see again. The first time the colt ran, Hernandez flew to Dubai to see him. With each subsequent race, he was able to rejoice in the colt's victory as his number one fan."I watch his races and live through them very differently now," Hernandez said. "I don't have as much pressure and tension as when he raced here. Every time Invasor is entered to run in a new stakes, every horseracing fan here goes crazy and they crowd the local simulcasting parlors, because they feel he is the Uruguayan ambassador, showing people how great racing is here. Our fans now have a hero after so many years without such a champion. "I love the horse now just as much as I did before I sold him. It was that love that pushed me to go all the way to Dubai to see his first race for his new owners. I met Kiaran McLaughlin, who was very nice. Knowing my devotion to Invasor, he led me to his stable before the race and left me alone with my horse to share a very special moment with him."Invasor left a lasting impression on everyone who came in close contact with him. "In my opinion, Invasor excelled because of his refined qualities, his endurance, and his outstanding intelligence," said racing journalist and writer Miguel Aguirre Bayley. "Invasor may well become one of the best racehorses in the history of the American Turf."Guillermo Robles, the track photographer at Maronas, was able to capture all of Invasor's dominating victories. "At first, he looked to be too gentle of a colt on the racetrack, but he turned into a powerful express train, winning with authority and without any effort at all. Some of us began wondering if he was that good or was just beating weak horses."We were all hoping to see him in the Jose Pedro Ramirez, in which he would have to run against the best South American horses, but he was sold before that. So, the doubt continued after his first, and only, defeat in Dubai. When he started his undefeated career in the United States, all the doubts were removed, and he definitely became a national hero, and we are all faithfully and anxiously awaiting the Breeders' Cup."Baleta says, of Invasor's three victories in the U.S., the Whitney is the one that stands out. "He was amazing that day," he said. "Everyone thought (Sun King) was going to win, but Invasor put his heart all over the racetrack in the final furlong. "Javier Castellano says that Bernardini has no rivals, but if Invasor should win the Breeders' Cup Classic, it's going to be crazy here." "Maybe Bernardini is better than Invasor," said Roig, "but Invasor has a big heart, and sometimes, miracles do happen."
FREE! E-Newsletters from The Blood-Horse!...
Follow the top stories of major racing events, racing previews and results with FREE e-newsletters from bloodhorse.com. As news develops, we'll deliver updates to your inbox. Follow important events moment by moment, step by step!