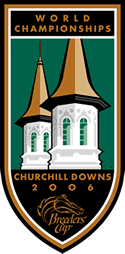 Turf talkThe race that saw the most action over the weekend was the John Deere Breeders' Cup (gr. IT). Hurricane Run's lackluster fourth-place finish behind Rail Link, Pride, and Deep Impact certainly gives hope to the Americans, with Cacique, The Tin Man, and T. H. Approval having completed their preps and heading to Louisville in top form, along with Meteor Storm, who returned off a layoff and ran a big race to finish third in the one-mile Kelso Breeders' Cup at a distance way too short for him. Give a lot of credit to T. H. Approval for deviating from his normal running style and tracking The Tin Man's pedestrian pace the whole way, and then rallying gamely with a final quarter in :22 4/5 to just miss by a head. Last year's Turf winner, Shirocco, who has been mentioned as a potential candidate for the Breeders' Cup Classic – Powered by Dodge (gr. I), was in great position in the Arc, running comfortably in second, but had no punch in the stretch and quickly retreated to finish last, which was totally out of character for this tough, consistent horse. His status for any Breeders' Cup race now has to be up in the air, assuming he came out of the race OK.As for Hurricane Run, last year's Arc winner apparently is not the force he was as a 3-year-old, having lost three of his last four starts. In his defense, he wasn't given a chance to run until it was way too late. Boxed in throughout and kept pinned in by Yutaka Take on Deep Impact, he had to wait for most of the field to clear him before he could swing to the outside. By then, the race had passed him by, and he could only trudge home a well-beaten fourth.It will be interesting now to see how the European forces shape up. Pride ran another super race against males and would be a major force in the Turf should her connections decide to go that route. The longer the distance the better for this daughter of Peintre Celebre, who has already defeated Hurricane Run in the Grand Prix de Saint-Cloud (Fra-I) and finished second to David Junior in last year's Emirates Airline Champion Stakes (Eng-I).That leaves English Channel to complete the main body of the American contingent. The son of Smart Strike has had a tendency to get rank behind a slow pace, and now gets his very own rabbit – the newly acquired Icy Atlantic – for Saturday's Joe Hirsch Turf Classic (gr. IT). Barclay Tagg has indicated they are leaning toward the NetJets Mile (gr. IT) with Showing Up, but deep down he believes the son of

Strategic Mission

would be competitive at a mile and a half. Let's see if they start having second thoughts after seeing the Arc.
While and wonderfulBring on Ouija Board, Gorella, and any other filly and mare turf horse. As magnificent as those two are, and in spite of what they have accomplished, it just may be that Wait a While is the Bernardini or Discreet Cat of the female turf division. Her last three performances have been so freaky, for lack of a better word, that she just may be unbeatable. The daughter of

Maria's Mon

does not get herself into trouble because of her excellent tactical speed, and she has the rare ability to turn turf races into dirt races in the way they are run. You just don't see turf races where a horse will sit and sit and sit just off the leader, regardless of the pace, and then explode to the lead and draw well clear with hardly any urging from the rider. You rarely see a turf horse run away from the field the way she does.Granted, the Yellow Ribbon was not a particularly strong field, but they still were older fillies and mares - including several who had won or placed in grade I stakes - and Wait a While simply blew them away with a final quarter in :23 1/5 to win by more than four lengths for the third time in a row while covering the 1 1/4 miles in 1:59 2/5. So, in her last three starts, she has run 1 1/4 miles in 1:59 1/5 and 1:59 2/5 and 1 1/8 miles in 1:46 2/5.She obviously likes firm going, but it must be noted that, in her only turf start at 2, she broke her maiden by five lengths over a course labeled good. In summation, the excitement a turf horse generates usually is based on the acceleration and power they display in the final furlong. With Wait a While, the race is over by the final furlong. She no doubt will be tested in the Emirates Airline Breeders' Cup Filly & Mare Turf (gr. IT) by fillies, the likes of which she has never faced before. But as classy and talented as Ouija Board and Gorella and some of the others are, can they match the raw speed and power of Wait a While – something they have never seen before?
Drifting toward the ClassicThe day after the Kentucky Cup Classic, trainer John Kimmel was still pretty upset over the near disaster that befell Premium Tap. Kimmel couldn't understand why Kent Desormeaux took the horse, normally a stalker, some five lengths back in fifth in a race that saw the pacesetter, 12-1 shot Ball Four, set soft fractions and go on to win. Desormeaux then tried to squeeze through on the rail and had to take up sharply. Premium Tap stumbled badly - nearly going down - but somehow recovered and quickly got back into stride. The Woodward (gr. I) winner came on again to challenge along the rail, and although he couldn't sustain his run, he still was beaten only 1 3/4 lengths. Desormeaux claimed foul on the winner, but the stewards quickly dismissed it.For a six-horse field, this race turned into a total mess with Julien Leparoux aboard Perfect Drift getting stuck behind horses in the stretch with nowhere to go. After seeing one hole close up on him, Leparoux steered Perfect Drift to the inside and squeezed through another hole. The 7-year-old came through running and closed in on the winner, but fell a half-length short, while coming home his final eighth in :12 flat.It's all about timing with Perfect Drift, whose runs seem to come a little too early or a little too late. But the old warrior can still run with anyone on any given day, and a return to Churchill Downs could be just the tonic he needs to put it all together and time that move right on Nov. 4. Perfect Drift has become almost a cult figure, and if he should upset the Classic in his own backyard (actually Churchill's nearby training track at the Sports Spectrum), be prepared for one of the loudest ovations ever heard at the Downs.Good Reward, coming off a disappointing effort in the Brooklyn Breeders' Cup (gr. II), found the Polytrack surface to his liking and closed well late to get third. It should be noted that the first three finishers have all had success on the turf.So, that brings us to next weekend's stakes extravaganza, where Bernardini and Lava Man attempt to distance themselves even farther from the pack. Of course, there is still Invasor; but he will now have to run in the Classic off a 13-week layoff, not the ideal way to go into the race.